Daniel Guedes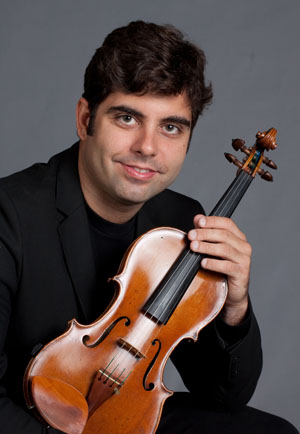 Biography
Considered as one of the most important Brazilian musicians of his generation, Daniel Guedes has been performing extensively as a violinist and violist, playing both solo and chamber music. Born in Rio de Janeiro in 1977, Daniel began his violin studies with his father when he was seven, continuing afterwards in the Brazilian Conservatory of Music. In 1992 he studied at the Guildhall School of Music with Detlef Hahn. At the Manhattan School of Music in New York, he pursued his Bachelors and Masters Degrees, having studied with Pinchas Zukerman and Patinka Kopec at the prestigious Pinchas Zukerman Performance Program. After finishing his Masters Daniel decided to go into conducting studies, and he has studied with Pinchas Zukerman, Mika Eichenholz, Alceo Bocchino and Glen Barton Cortese. He has won prizes in competitions like the "Young Brazilian Soloists", Bergen Philharmonic Competition and Waldo Mayo Memorial Award, which gave him his Carnegie Hall debut playing Bruch's 1st concerto with orchestra in 2000. He has received scholarships from CAPES (Brazilian government) and Vitae Foundation.
Since the age of ten, Daniel has been performing as a soloist with the main orchestras of Brazil, also in USA, Canada, Norway, England, Italy and South America. Highlights of this season are performances of Bruch Violin concerto n.2 in D minor with Sergipe Symphony, Villa-Lobos "Martirio dos Insetos" in the University of Miami (Oxford-Ohio), concertos by Philip Glass(Amazon Philharmonic), Prokofiev n.2(with Bahia Symphony), Sibelius (Sto André Symphony-São Paulo), Bruch n.1(Campos Mariuccia Iacovino Symphony), and recitals in Rio de Janeiro (Villa- Lobos Festival) and Campos do Jordão, playing both violin and viola. Next season`s engagements include Beethoven Concerto with Paraná Symphony, conducting and playing with Bahia Symphony, recitals at Weill Recital Hall at Carnegie Hall and in Florida, among others.
Daniel has performed chamber music with Shmuel Ashkenasi, Alex Klein, Richard Bishop, Ilan Rechtman, Antonio Meneses, Pinchas Zukerman among others and now plays in the Guanabara Quartet, a legendary chamber group in Rio de Janeiro which exists for more than four decades.. As a conductor, he has appeared with several orchestras in Brazil, such as Campinas Symphony Orchestra, Bahia Symphony, São Paulo University Symphony, Brazilian Conservatory of Music Chamber Orchestra, Camerata DellArt, University of Brasilia Chamber Orchestra among others.
In 2004 Daniel recorded the CD "Brazilian Impressions", performing pieces of Brazilian composers such as Villa-Lobos and Lorenzo Fernandez. Recently he recorded Beethoven Sonatas with Ilan Rechtman for the labor Well-Tempered Productions in the USA. He has also appeared several times in radio programs and television broadcasted nationally in Brazil. An enthusiastic of contemporary music, he recorded in 2008 a CD dedicated to the composer Nelson Macedo and the DVDs "Contraponto 1" and "Contraponto 2", with works of contemporary Brazilian composers Alceo Bocchino and Aluisio Didier.
Daniel currently holds a teaching position at the Federal University of Rio de Janeiro (UFRJ). He also gives masterclasses and teaches actively in music festivals in his homeland, such as the Campos do Jordão Internacional Winter Festival, Festival Associacion Musica para Todos (Mendoza, Argentina) and Santa Catarina Music Festival (FEMUSC).
---
http://www.youtube.com/watch?v=H-GdgD_yaa0