Fabio Sampo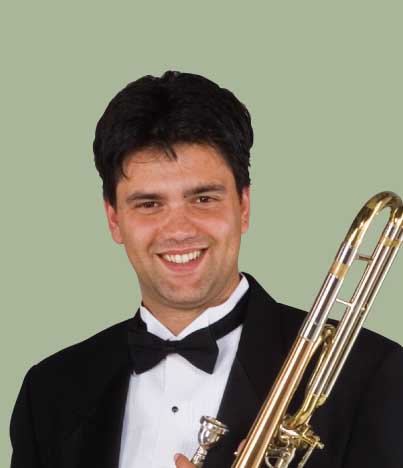 Biography
Fabio Sampó is principal trombonist of the National Radio Broadcasting Orchestra (RAI) in Torino, Italy. He has played under great conductors such as Zubin Metha, Jeffrey Tate, Roberto Abbado and Rafael Frübeck de Burgos. In 2001, he performed with the RAI Orchestra in the Emmy Award winning "Traviata in Paris." He has collaborated as first trombone of The Swiss Radio Orchestra, Filarmonica Arturo Toscanini Orchestra in Parma under Loren Maazel, "Forty Years of Music with Luciano Pavarotti" and Orchestra Filarmonica della Scala.
As one of the young great European performing artists and soloists of his time, he has both performed and recorded "Canto d'Autunno" for solo trombone and band by C.Saglietti and was a featured soloist of the Ghedini Orchestra, performing "Concerto for Trombone and Strings" by E.Rizza. His recordings include a duo with M. Dee Stewart for the Summit label Called 'Con Amore', a medley of fantastic Italian Opera music arranged for two trombones and piano. SampoStewart productions will release a second CD with Summit Records in the fall of 2008 of jazzy Christmas medleys arranged especially for them.
An active chamber musician artist and clinician, Fabio's activities include the RAI Orchestra Brass Quintet, Trio Promenade, "Decimino d'Ottoni Fiati Insieme" and "Free Bones" trombone quartet. Master classes and seminars include Indiana University, Butler University, Grand Valley State University, DePauw University, Novara Conservatory of Music and Asti Castello di Cortanze.
Mr. Sampó is also an organizer of the Alessi Seminar in Italy (translator and auditor coordinator) and the M. Dee Stewart Seminar. He received both Performer and Artist Diplomas from Indiana University where he studied under M.Dee Stewart, Keith Brown and Scott Hartman and Carl Lenthe. Maestro Sampó has been guest professor at Indiana University Jacob School of Music. He currently teaches trombone and euphonium at the Istituto Civico V.Baravalle in Fossano, Italy. For his achievements in music, Maestro Sampó received the key to the city of Fossano in 2002.