Frank Darmiento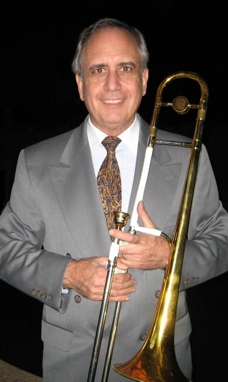 Biography
Frank Darmiento is a 1967 graduate of Union College in Schenectady, New York where he studied music composition with Edgar Curtis and was awarded the Richmond Prize in Music as outstanding musician. He later studied music composition with Wendell Margrave in Washington, D.C. and arranging with Ladd McIntosh. He was selected as a winner of the prestigious 2003 Dallas Wind Symphony brass fanfare competition. He is also a multiple year American Society of Composers, Authors, and Publishers (ASCAP) awards winner.
Frank's compositions and arrangements have been performed by professional, college, student and community groups. In addition to writing for his jazz quartet he has composed or arranged for orchestra, concert band, a variety of big band and jazz ensembles, shows, and an unusual assortment of chamber instrumentations. His chamber works include pieces for brass quintet, piano quartet (violin, viola, cello & piano), flute and tuba, flute and bassoon, four bassoons, flute-bassoon and sax quartet, and alto flute with four bassoons. His trombone works include an alto trombone concerto (with orchestra), compositions and arrangements for solo trombone and concert band, and unaccompanied trombone solos.
He is also music director of La Forza Chamber Orchestra, and has also conducted symphony orchestras, concert bands, show groups, television productions, and jazz ensembles. He performs regularly with classical, jazz and show groups. He is principal trombonist with the Scottsdale Philharmonic (Scottsdale, Arizona), co-leader of the brass quintet, Optima Brass, plays euphonium with the Scottsdale Concert Band (Arizona) and also performs regularly with several big band jazz groups.. He also performs on classical guitar, electric bass, vibraphone, and percussion. He has been a concert soloist on trombone, euphonium and classical guitar. His latest CD, "Sudden Impact," is a jazz quartet album and was released on the Summit Records label. It has received radio airplay throughout the country. The album includes six original compositions by Mr. Darmiento, as well as his arrangements of five other pieces.
His music is published by Cimarron Music Press, Serendipity Press, Sheet Music Plus and his own company, Sackbut Music, LLC.
Mr. Darmiento is also a registered professional engineer. He works as an environmental and transportation engineering consultant. He holds a B.S. degree in Mechanical Engineering from Union College in Schenectady, New York, and an M.S. in Environmental Engineering from Arizona State University in Tempe, Arizona.
He served as a Peace Corps Volunteer in Bolivia from 1967 to 1969.
---