George Recker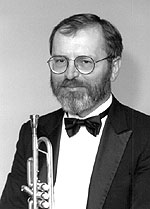 Biography
George Recker is associate professor emeritus of trumpet at the University of Oregon. He is principal trumpet and frequent soloist with the Eugene Symphony Orchestra, and plays first trumpet in the Oregon Brass Quintet.
Recker studied at Florida State University and George Peabody College. His private trumpet teachers include Adel Sanchez, Armando Ghitalla, William Vacchianno, and Arnold Jacobs.
Recker joined the UO music faculty in 1983-2007, emeritus 2003. While teaching and conducting workshops and classes, he has continued an active performance schedule. In addition to his work with the Eugene Symphony and Oregon Brass Quintet, he has been co-principal trumpet with the Oregon Bach Festival and principal trumpet with the Oregon Coast Music Festival.
Recker was principal trumpet in the Kennedy Center Opera Orchestra from 1972-83, establishing himself as one of the premiere musicians in the Washington, D.C., area. He played under some of the world's greatest conductors, including Leonard Bernstein, George Solti, and Aaron Copland. His credits include nationally televised concerts and galas featuring popular performers. During this period Recker also served as extra trumpet in the National Symphony Orchestra under the baton of Mstislav Rostropovich, soloist and principal trumpet in the National Gallery Orchestra, soloist at Wolf Trap, and first trumpet in the Washington Brass Quintet. Before joining the Kennedy Center Orchestra, Recker served in the United States Army Band from 1969-71. He has played in more than 45 Broadway musicals and is also a seasoned studio musician.
A third generation musician, Recker has a particular interest in music of the 19th century and early 20th century. He pursued this interest in performance at the Smithsonian in Washington; recordings include 19th Century Ballroom Music (Nonesuch), Our Musical Past (Library of Congress), and Rose Marie (Smithsonian). Recker has continued his interest in reviving this genre of music through Old Brass and Ivory, a cornet and piano duo formed in 1985 with Fulbright scholar, pianist and composer Arthur Maddox.