Mark Lawrence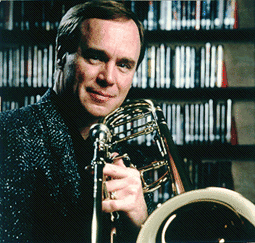 Biography
Mark H. Lawrence is the Pricipal Trombonist with the San Francisco Symphony, a position he has held since 1974. He has also been Principal Trombone with the Denver Symphony; a member of the Empire Brass Quintet.
Born in Ames, Iowa, and raised in the Detroit area, Mr. Lawrence received his early musical training on the piano and cello. While living in Detroit, he became, at age sixteen, the youngest musician ever to play in the renowned Detroit Concert Band, under the direction of cornet virtuoso Leonard B. Smith. Mr. Lawrence attended the University of Michigan and the Curtis Institute in Philadelphia, where he received his Bachelor of Music degree. His teachers have included Carlos Rivera, Allen H. Chase, Glenn Smith, M. Dee Stewart, and Glenn Dodson.
Mr. Lawrence is an active soloist, clinician, chamber musician, and teacher. He has performed at the International Brass Conference, the International Trombone Conference, and is a frequent recitalist in this country and abroad. He has been soloist with the San Francisco Symphony on several occasions, and has been guest artist with many other orchestras as well. Mr. Lawrence is a founding member of Summit Brass, an ensemble comprised of outstanding brass players from across America. In addition he is a frequent performer with Chicago's Music of the Baroque.
Mr. Lawrence has been on the faculty of Boston University, the Tanglewood Institute, and the Music Academy of the West, and has given Master Classes worldwide. He currently teaches at the San Francisco Conservatory and the Rafael Mendez Brass Institute. Many of his former students have successful orchestral careers in the U.S. and in Europe.
---