MARS 4-Tet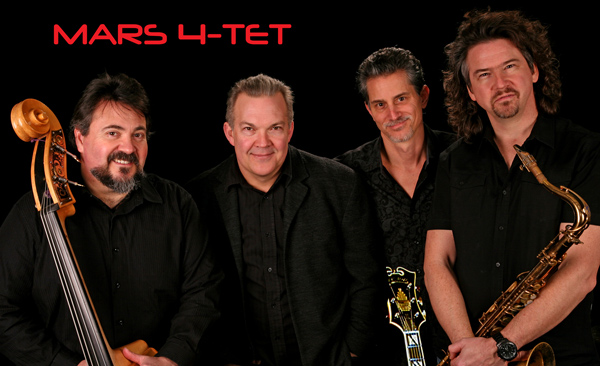 Biography
The MARS 4-Tet is proud to announce the release of their freshman CD The Blind Watchmaker on Summit Records. Comprised of artists with years of clubs, festivals and feature concerts behind them, their collective resume reads like a who's who of east coast musicians and recordings. Together, this fierce foursome forms The MARS 4-Tet.  Get ready for a generous serving of energy, humor and groove.
Bassist Max Murray received a Latin Grammy Award and Grammy nomination for the 2008 album Caribbean Jazz Project-Afro Bop Alliance with Dave Samuels. Following his career with the prestigious US Naval Academy Band, the Boston bred bassist has spent years travelling to far off gigs with the likes of Henry Mancini, Mose Allison, Gene Bertoncini, Donny McCaslin, Jimmy Witherspoon and Poncho Sanchez.
Saxophonist Jeff Antoniuk has toured many continents since leaving Alberta Canada. Lauded for his four-carat compositions and heightened powers on the saxophone, he has won acclaim from fans and critics. Jazz Times praised his"considerable chops" while MusikReviews.com described his "amazing saxophone playing." He has worked with American greats Ray Charles, Natalie Cole and Bobby McFerrin and performed with Canadian pop icon David Foster and trumpet phenomenon Ingrid Jensen. Stateside he has gigged everywhere from The White House to Las Vegas. Known as a master of modern jazz and hard bop aficionado, Antoniuk is excited about this new vehicle for jazz and jazz-fusion.
Drummer Frank Russo is an in demand performer/artist/educator for Bosphorus Cymbals, MD Drums, The Vic Firth Education Team, and Towson University, performing throughout the United States and the world. Raised in the NYC area, Frank carries on the legacy of a musical family and completed a distinguished career with the prestigious Naval Academy Band. An incredibly adaptable musician, a partial list of his performances testifies to his diverse talent. Frank has performed with Dave Ballou, Keter Betts, The Coasters, Jeff Coffin, Hal Crook, Steve Davis, John D'earth, Denis DiBlasio, Ethel Ennis, Michael Feinstein, George Garzone, Greg Gisbert, Tim Hagans, Conrad Herwig, Ingrid Jensen, Donny McCaslin, Tim Miller, Dr. Lonnie Smith, Frankie Valli, Bill Watrous, among others. Frank's recordings have gained national recognition and praise from Downbeat, Jazztimes and Modern Drummer along with his performances at Jazz Festivals in the US, Canada, Asia, and Europe. Frank is proud to exclusively perform on Baltimore Drum, Crescent Cymbals and Vic Firth Sticks.
The roots of gifted guitarist Donato Soviero lie in mainstream jazz, and he counts Joe Pass, Howard Roberts, and Emily Remler among his teachers. His playing shows varied musical influences. He has appeared with numerous groups in the US, Europe, and the Caribbean. Like his bandmates, he has performed at local venues such as the Kennedy Center, Blues Alley and One Step Down. He has also accompanied other top flight artists at Wolftrap, the Convention Center and RFK Stadium. Tom Cole, host of WPFW'S "G Strings" said "Donato's beautiful phrasing and impressive improvising took me aback. He's one of those real surprises."
The MARS 4-Tet creates a whole new sound on the scene. Channeling the classic jazz tradition, and infusing it with a smorgasbord of contemporary vibes, The MARS 4-Tet ain't your Grandma's jazz band.
---