Patrick Sheridan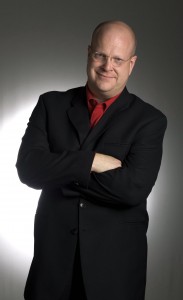 Biography
Patrick Sheridan is one of the most celebrated soloists in his instrument's history. He has performed more than 3,000 concerts in over 50 countries in venues ranging from the White House to NBA half-time shows to the Hollywood Bowl.
At 20 years of age, Patrick became a member of "The President's Own" United States Marine Band. During his military service, he thrilled audiences across the United States with his amazing virtuosity and musicianship as one of the band's primary soloists. Since then, Patrick has gone on to become an incredibly diverse artist with concert performances transcending stylistic genres and building fans around the world for his instrument, the tuba. He has been featured in television and radio broadcasts on 4 continents including appearances most recently on NBC's Today Show and NPR's All Things Considered and Performance Today. Patrick maintains a busy international career with more than 75 concerts annually with orchestras, bands, and chamber ensembles and in recital. At home and abroad, Patrick also performs with the creative collective, The Big Bottom Band.
Beyond his busy performing life, Mr. Sheridan's commitment to education is extensive. His wind students occupy principal positions in major international ensembles including orchestras in Amsterdam, Berlin, Vienna, Rome, Paris, Madrid, Tokyo, Hong Kong, and many others. In 2001, Patrick founded The Institute for Performance Success. This 'peak performance' training institute is dedicated to bringing fresh and innovative learning environments to performers, teachers, executives, athletes and others seeking 'peak performance' in their careers. Along with Sam Pilafian, Patrick is the co-author of the world's best selling breathing method for instrumental improvement, The Breathing Gym. He is also co-author of the GIA publication, Leadership Success, with Dr. Tim Lautzenheiser. Mr. Sheridan is currently on the music faculties at Arizona State University and UCLA. In the Phoenix community, Patrick serves as the Music Director of The Salt River Brass and is the conductor of the youth band, Sonic Winds. Patrick also frequently works across the United States as a guest conductor with university bands and orchestras as well as high school and middle school all-state and regional honor bands and orchestras.
Mr. Sheridan also works as a composer and arranger. His music and arrangements have been performed internationally by symphony orchestras, concert bands, marching bands, jazz bands and drum corps. Most recently his music was performed by the US Army Band and at the American Bandmasters Association's national convention. He also co-composed with Sam Pilafian a new piece for tuba and wind band, The Strait of Hormuz, which he premiered at the 62nd Annual Midwest Clinics in December 2008. Patrick and Sam are also working on a double concerto for Joe Alessi and Wycliffe Gordon to be premiered at the CBDNA National Conference in 2011 by the University of New Mexico's Wind Symphony with Eric Rombach-Kendall conducting. Patrick's music, arrangements, CDs, DVDs, and books are published by Focus on Music, GIA Publications, De Haske Music, Mythen Hollanda and Dillon Music Publishing.
Mr. Sheridan has over 20 years experience in the music industry as a design consultant. Instruments influenced by Patrick's designs are played in hundreds of professional orchestras, military bands and chamber ensembles around the world. Thousands of university, high school, middle school and elementary school students play on instruments in which Patrick has been involved in the design process. He currently works as a design consultant for Jupiter Band Instruments, Inc. Patrick was a part of the design team responsible for Jupiter's Quantum Marching Project which introduced five new marching brass models in 2008. Ensembles competing in Drum Corps International and Bands of America as well as collegiate marching bands around the United States are using these instruments with great success. He is currently working on a new line of Jupiter professional brass to be introduced in 2009. Patrick is also an Artist and Educational Ambassador for Jupiter.
Patrick is a member of ASCAP, an Honorary Member of Kappa Kappa Psi and a Trustee of The International Music Camp. He holds a Master of Business Administration degree with an emphasis in finance and marketing from the University of Michigan and spends his free time with his children, Katie and Jack, hiking and camping in beautiful Arizona.