Steven Egler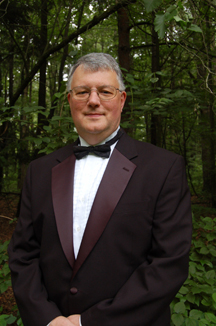 Biography
Steven Egler, Professor of Organ, holds the Bachelor of Music, Master of Music, and Doctor of Musical Arts Degrees in Organ Performance from The University of Michigan, where he studied organ with the late Robert Glasgow and harpsichord with Edward Parmentier. Additional study has been with Lillian McCord, Catharine Crozier, Charles W. Ore, Quentin Faulkner, and George Ritchie. He has appeared as a soloist, collaborative musician, and clinician throughout the United States, as well as in Canada, Norway, and France, and he has performed as a member of the Shelly-Egler Flute and Organ Duo for over 35 years. His performances have been featured several times on Pipedreams, and he has performed and given workshops for eight regional and national conventions of The American Guild of Organists and the National Flute Association. He has also taught in 7 Pipe Organ Encounters sponsored by the A.G.O., and he has adjudicated various organ competitions, including the prestigious National Organ Competition in Ft. Wayne, IN. Many of his current and former students hold major church and college teaching positions throughout the U.S., and Egler has been honored by his colleagues 5 times with the Professor Merit Award at C.M.U. for his teaching, creative endeavors, and scholarly work.
Throughout his career, Steven Egler has been a champion of new music and has commissioned and/or premiered around 30 compositions for organ, organ and flute, and organ and choir. Composers with whom he as collaborated include David Gillingham, Moonyeen Albrecht, Gordon Young, Austin Lovelace, Wilbur Held, Robert Powell, Charles W. Ore, and Gerald Near. He has also premiered several compositions by recent C.M.U. graduate Phillip Rice.
He has been involved with the A.G.O. in many official capacities, including the National Council on which he served as Councillor for Region V and for which he recently completed a term as Director of the A.G.O. National Nominating Committee. The Shelly-Egler Duo's CD, The Dove Descending, is available from Summit Records, and Dr. Egler's first solo CD, When In Our Music God is Glorified, was recorded in 1999 by Prestant Records on the 1997 Casavant organ, Opus 3756, at Central Michigan University. This CD is available from The Organ Historical Society. Dr. Egler's collaboration with the late Dr. Paul Willwerth, professor of trumpet emeritus at Central Michigan University, resulted in two CD's: Music for Trumpet and Organ (a remastering of an earlier LP recording) and Ecclesiastical Music for Trumpet and Organ (compositions by Dr. Willwerth). His most recent CD, The Organ Works of Gerald Near, was recorded by White Pine Music and is available from MorningStar Music.
An active church musician, Egler has served several churches in Illinois and Michigan for over 45 years, including his past post as Director of Music and Organist of the First Presbyterian Church, in Mt. Pleasant, and his current position as Artist in Residence at the First Congregational Church in Saginaw.