William Barnewitz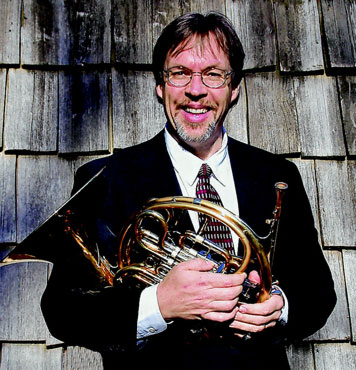 Biography
William Barnewitz has played with the Milwaukee Symphony Orchestra since 1995. In addition, Mr. Barnewitz has enjoyed the luxury of holding the position of Principal Horn with the Santa Fe Opera Orchestra, and performing as a guest Principal with such wonderful orchestras as the Los Angeles Philharmonic and the St. Louis and Atlanta Symphonies. In what seem like other lifetimes, he has also played with the Utah Symphony, Sacramento Symphony and cut his teeth with various ensembles in New York City, The American Symphony and New York City Opera, to name a few.
In 1991, Mr. Barnewitz won the prestigious American Horn Competition, which adds to the orchestral hornists' dimension of delusion that being a soloist is both fun and profitable. Other notable winners play in the orchestras of Philadelphia and Detroit and solo about as often as Mr. Barnewitz.
Since 1998, Mr. Barnewitz has been an adjunct horn instructor at Northwestern University, and currently has many students filling the ranks of horn sections around America. He has also taught at the University of Wisconsin-Milwaukee and Lawrence University and is a frequent guest at the University of Wisconsin-Madison.
As a chamber musician, Mr. Barnewitz is a regular with the Santa Fe Chamber Music Festival and the Winter Chamber Music Festival at Northwestern University as well as any other chamber music opportunities where he doesn't have to bring his own stand.
Mr. Barnewitz has played on the sound tracks of over 200 motion pictures and numerous television and radio commercials. You never know when you might be hearing his talents: your car, your TV, your shower…no wait, that's you singing. Mr. Barnewitz's career has taken him far and wide, including his own, highly acclaimed chamber music CD, Functionlust and the world premiere recording of Alec Wilder's 5 Love Songs with the Miramar Chamber Orchestra.
This is what an education from the North Carolina School of the Arts and The Juilliard School will get you, but only if you practice.
The best part of his busy life is his wife Jane and his daughters Molly and Kate, all Shorewood residents.