Along For The Ride – Pete McGuinness Jazz Orchestra
This new recording once again features the multi-Grammy finalist's composing – arranging, along with some of his solo work on vocals and trombone.
But it is equally about the band and its many fine soloists who Pete has known and worked with for over 25 years. A collective resume of the band members includes stints with such well-known band leaders as Maria Schneider, Woody Herman, Lionel Hampton, Jimmy Heath and countless other great big bands, Broadways shows and various NYC studio recording sessions. When they all get together, it is as much about "the hang" as it is about playing the music. Once the arrangements were written, McGuinness was indeed along for a great ride! He knew the many gifts of the band's various soloists, and how they can pull off even the trickiest of passages with style and energy.
From the world of Broadway, Put On A Happy Face is one of those memorable tunes that have always stuck with Pete. Normally done in a straightforward light-hearted fashion, he presents it here with more of a twist, using bits and pieces of the song in a variety of ways (as a bass line, as counter melodies, etc.). A good song can stand up to a lot of reinvention, and this one worked out well for that.
You Must Believe In Spring is one of the many romantic masterpieces by Michel Legrand (who passed away earlier this year). Pete was first introduced to the song via the classic recording by Bill Evans and Tony Bennett, but arranged it here with a bit more lilt and swing. This arrangement focuses on his vocals.
The tempo rises on Point Of Departure, a bright samba featuring Rob Middleton on tenor sax, Bill Mobley on trumpet, and Pete on trombone.
Jive Samba gets an arrangement with some mysterious turns…Who Cares turns into a lush/relaxed bossa nova…and the rest of the program gets the same incredible, unpredictable treatment…with incredible musicianship!
REVIEW from DOWNBEAT: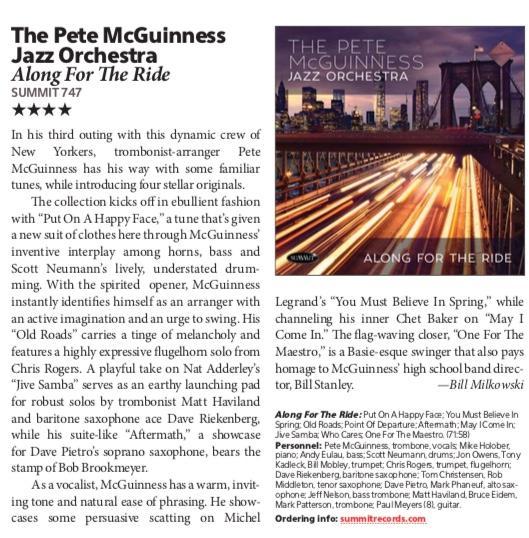 REVIEW:
With 13 years of activity under their belt, The Pete McGuinness Jazz Orchestra has become one of the best oiled-machines in contemporary modern jazz. Led by trombonist/composer Pete McGuinness, they released their third album, Along for the Ride, on June 7 via Summit Records. Here, McGuinness assembles one of the orchestra's best lineups and a repertoire of standards plus a slate of diverse new originals. One of these is "Old Roads," for which McGuinness draws inspiration on his childhood in West Hartford, Connecticut. The track is enriched by a heart-wrenching piano, courtesy of Mike Holober.
-JAZZIZ
REVIEW:
McGuinness is a triple threat here as he leads a big band through some of his very clever charts, supplying warm trombone solos and in section work, and even throwing in some hip vocals to boot. The band does some peppy work with a fun take of "Put On A Happy Face" which features Tom Christensen's joyful tenor sax, while the woodwinds get dreamy for Chris Rogers' flugelhorn on an impressionistic "Old Roads" and Dave Pietro floats for the feathery "Aftermath" all which include classy piano work by Mike Holober. The rhythm section gets funky on a boogalooing take of Nat Adderley's "Jive Samba" and bops with the best for "One For The Maestro."
McGuinness delivers a strong solo on the big and bold "Point of Departure," but what really draws attention is his winning voice. He is hep as all get out as he harmonizes along with "You Must Believe In Spring" and is West Coast Vo-Cool on a sublime "May I Come In." This album is filled with accessible excitement as well as clever ideas, things not to be mutually exclusive as testified here.
-JAZZ WEEKLY
REVIEW:
THE PETE McGUINESS JAZZ ORCHESTRA is led by the trombonist/vocalist/arranger/composer who is on staff in the Jazz Studies Department of William Paterson University.  Along for the Ride (Summit – 747) demonstrates that he is a jazz educator who knows how to get out onto the scene, and put into practice the knowledge that he passes on to his students.  The nine-tune program comprises standards like "Put on a Happy Face," "You Must Believe in Spring" "May I Come In" and "Who Cares;" Nat Adderley's "Jive Samba;" and four original McGuiness composition.  The band plays his charts with finesse and verve, sprinkled with much impressive soloing.  McGuiness adds vocals on "You Must Believe in Spring" and "May I Come In."  This is one fine big band album!
-JERSEY JAZZ
REVIEW:
"…Pete McGuinness has shown himself to be an excellent arranger and his original compositions on this album are among the most mature of his three+ decades.  The Pete McGuinness Jazz Orchestra, now in its 13th year, makes music to savor!"
-STEP TEMPEST
REVIEW:
What a varied and welcome release from NYC trombonist, composer and vocalist Pete McGuinness. This is a feast for any contemporary big band enthusiast, but especially for other writers who will genuinely Put on a Happy Face when they hear the variety of styles and techniques on display here (and not just while hearing the track of that title).
Solos are generously spread around the orchestra and expertly rendered, notably by the bandleader himself, and that other fine writer Mike Holober, who plays piano here. However, it is McGuiness's vocal talent which is most diverting on several tracks, intimately intoning the songs with a restrained precision favourably comparable to Mel Torme in places.
Soloists and singer are supported by complex composed underscoring in places, which perfectly treads the difficult line of neither submerging the soloist nor being overlooked as mere background. I particularly enjoyed the composer's own Old Roads where Chris Rogers (flugelhorn) and Mike Holober draw out bitter-sweet essences from the evocative chord sequence.
Gershwin's Who Cares is indeed a care-buster, beautifully underpinned by Paul Meyer's Spanish guitar, and glowing flugelhorns. The stand-out piece for me is Can I Come In, where McGuiness's writing exquisitely colours the sheepish return of the errant lover. There's a lot of fun here too. Driving latin and the blur of fast fingers is a delight in Point of Departure, while the grooving romp of Jazz Samba invites us to a party where this listener overheard Lee Morgan meeting Steely Dan.
If you like your contemporary big band music direct, melodic, and less impressionistic than is the current vogue, this CD is warmly recommended.
-London Jazz News
REVIEW:
For his third recording with his New York-based orchestra, the talented trombonist, vocalist and arranger Pete McGuinness once again presents a spunky, somewhat quirky outing. While the band features strong solo performances and McGuinness doing double duty with vocals reminiscent of Chet Baker's soft, high-pitched cottony tones, it is the leader's complex, detailed writing that transforms this album into something special. For example, opener Charles Strouse's "Put on a Happy Face" could have drowned in its intrinsically trite simplicity, but McGuinness transforms it into something exciting with tight harmonies, counterpoint and a strongly swinging style punctuated by fine contributions from pianist Mike Holober and tenor saxophonist Tom Christensen.
McGuinness generously spreads the solos, only taking a few for himself, often smartly relying on Holober's singular focus and solid performances from the rest of the group. The leader's vocals are partially an acquired taste, but he is more convincing when he lets loose than when he follows a composed melody, a contrast he exhibits on Richard Rodgers-Oscar Hammerstein II's "It Might As Well Be Spring".
Filled with simple pleasures, the album is replete with small delights throughout, such as the beautifully arranged original "Old Roads", a perfect setting for Chris Rogers' lush flugelhorn, and "Aftermath", with sensitive percussion from Scott Neumann and a lovely tuneful solo from Dave Pietro on soprano saxophone slowly building in intensity and speed; buttressed by the undercurrent of Jeff Nelson's bass trombone and segueing to a delightfully loose structure and finally ending in a whisper, Pietro makes his mark throughout the latter piece. McGuinness generously lets his fellow trombonists shine and Mark Patterson delivers on George Gershwin's "Who Cares", Matt Haviland soars on Nat Adderley's "Jive Samba" and Bruce Eidem hits hard on McGuinness' "One for the Maestro".
For those who like their big band jazz with a bit of swagger, attractively robust writing and the occasional surprise, McGuinness delivers the goods.
-Steven Loewy for The New York City Jazz Record
---
If you are interested in purchasing an individual track from this cd, visit

---