James Sedares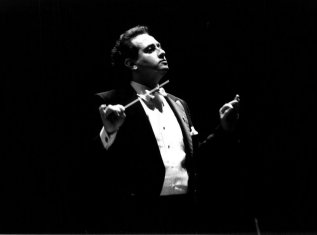 Biography
The American conductor, James Sedares, has proven himself one of the best and the brightest of a new generation of American conductors. In 1996 he concluded a tenyear tenure with the Phoenix Symphony Orchestra, an ensemble he placed into the spotlight of national and international recognition. Responding to a performance conducted by Maestro Sedares, the Arizona Republic stated, "If quality and beauty are criteria for attending a concert, patrons should be standing in line to get into Symphony Hall…"
An impressive orchestra builder, James Sedares recently concluded his 6th season in the position of Principal Guest Conductor with the Vector Wellington Orchestra in Wellington, New Zealand (2006). Last season he made his debut with the Rotterdam Philharmonic Orchestra and had his first release on the prestigious Deutsche Grammophon Label in a performance of the Waxman oratorio Joshua performed with the Prague Philharmonia. Upcoming debuts include performances in Mumbai, London, and Seoul.
An active recording artist, James Sedares led The Phoenix Symphony's critically acclaimed premiere recording of Copland works released on the Koch International Classics label in September 1991, later winning the prestigious INDIE award for best classical album of the year from the National Association of Independent Record Distributors (NAIRD). Sedares's second recording with the Phoenix Symphony featuring works of William Schumann and Bernard Herrmann, appeared on the Billboard classical album charts for several months and the 1999 release of former PSO ComposerInResidence Daniel Asia's Symphonies No. 1 and 2 on New World Records received stunning critical acclaim in the recording press. Undoubtedly the foremost success for Sedares and the Orchestra was the recording of Elmer Bernstein's reconstructed score to The Magnificent Seven on Koch International Classics in 1994. This blockbuster CD was listed on Billboard Magazine's classical crossover best seller chart and continues to be one of the toprated releases of the year. The composer calls it "the definitive interpretation" and it won the ECHO Award, the prestigious German Record Critics Prize (Der Deutschen Schallplattenkritik Preise); as well as another INDIE award as best CD in the film music category. Another recent film score recording on Koch is that of the late Miklós Rozsa's El Cid with the New Zealand Symphony Orchestra.
James Sedares's collaboration with the Koch International label includes two Grammy-nominated recordings: one with the London Symphony Orchestra and the other with the Louisville Orchestra. Sedares has recorded over 40 projects for release on Koch International Classics. He has nearly 30 recordings with the New Zealand Symphony Orchestra and the New Zealand Chamber Orchestra.
A recent release on Universal Music NZ entitled "Beauty Spot" with the New Zealand Symphony Orchestra achieved gold status and topped the charts, sharing this spot with many of today's most recorded Pop artists. "Beauty Spot II" was released in 2002 and is still topping the NZ charts.
An active guest conductor, James Sedares has led many of the major orchestras throughout Europe, the Pacific Rim and the USA.
---