Ahn Trio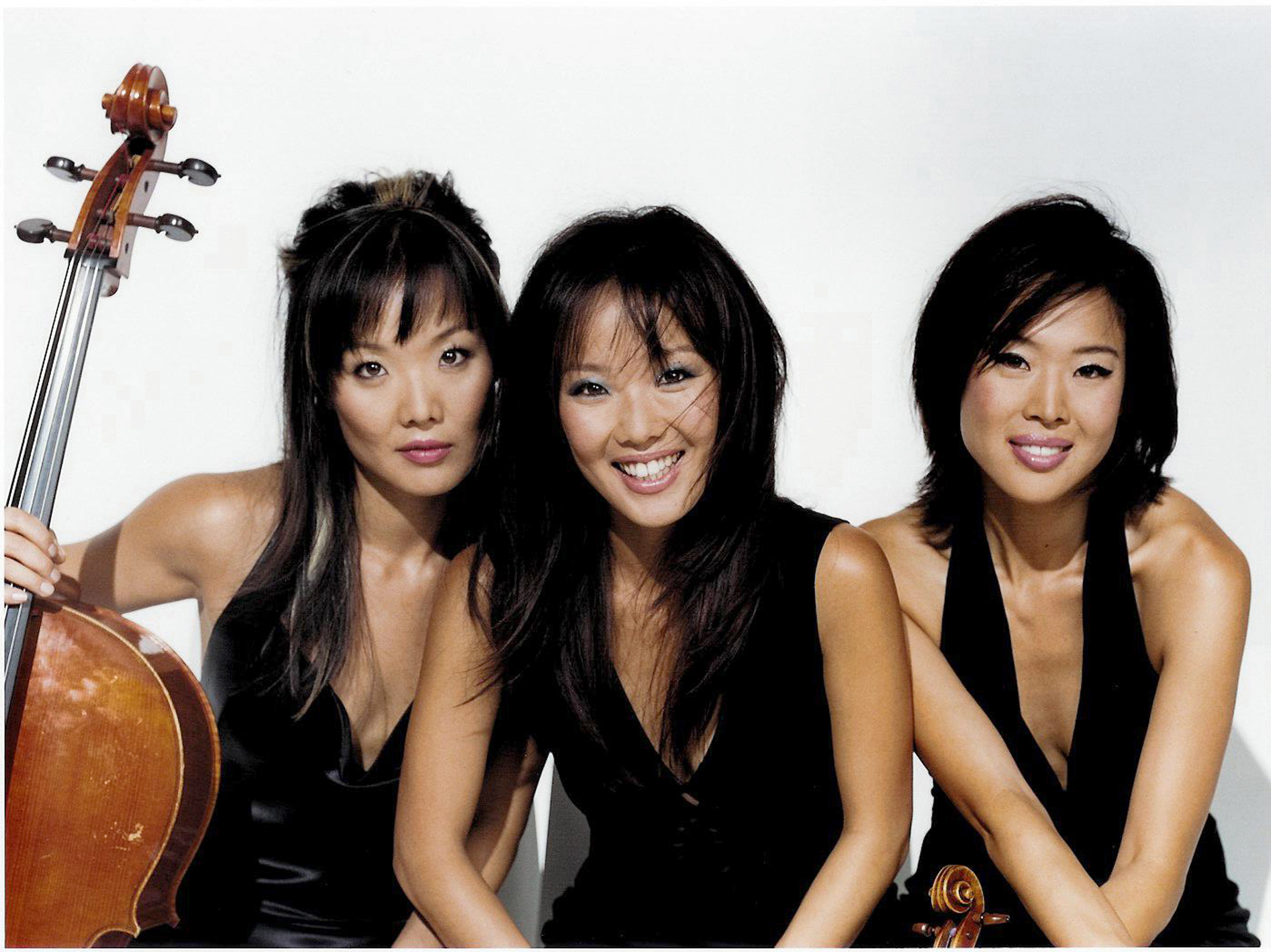 Biography
Born in Seoul, Korea and educated at the Juilliard in New York City, the members of the Ahn Trio, (cellist Maria, pianist Lucia, and violinist Angella), are constantly redefining the art and architecture of chamber music. Breathing new life into the standard piano-trio literature with commissioned works from visionary composers such as Michael Nyman, Maurice Jarre, Pat Metheny, Paul Schoenfield, Mark O' Connor, Kenji Bunch, Nikolai Kapustin, and Paul Chihara, the Ahn Trio brings a new energy and excitement to the chamber music world. The trio's latest CD, "Lullaby for My Favorite Insomniac" (released by Sony), is a showcase of this vibrant and original music, which made No. 8 on the Billboard Charts for 26 weeks in the Classical album category.
The trio has been touring successfully for over ten years and have six albums to date. Their first album, a recording of Ravel and Villa-Lobos trios brought rave reviews, with Audio Magazine praising "this is one of Ravel's best and never better played". The next EMI recording of trios by Dvorak, Suk, and Shostakovich, won Germany's prestigious ECHO Award. An MTV appearance on Bryan Adams' "Unplugged" led to the development of the "Ahn- Plugged" and "Groovebox" albums (EMI), which embodies the excitement and energy of the Ahn Trio. Seeking complete artistic freedom, the trio formed their own production company named L.A.M.P., (Lucia Angella Maria Productions), which self-produced "Lullaby For My Favorite Insomniac". Their latest project was a joint album with the Czech Grammy-winning Tata Bojs called "Smetana" (Warner).
Maria, Lucia and Angella thrive on dissolving the barriers between art forms. They have fused their work with that of dancers, pop singers, DJ's, painters, installation artists, photographers, lighting designers, ecologists, and even kite makers. The Ahns enjoyed their successful collaboration with the David Parsons Dance Company, which toured extensively to critical acclaim. More recently, they performed in the Czech Republic with rock group the Tata Bojs to sold-out shows. This year, the Trio is very excited to add to their repertoire "March of the Gypsy Fiddler", a Triple Concerto written for them by Mark O'Connor. The Ahns frequently enjoy having guest artists join them on stage, recent favorites include the Kin, a two-brother rock band from Australia, as well as electronic music artist Juno a.k.a Superdrive from Berlin. It is precisely this vitality and commitment to innovation that has Ahn Trio continually drawing new audiences to classical music.
Possessing an enviable combination of talent and style, they have long been natural subjects for the international press. They made their magazine premiere very early on, in Time's cover story, 'Asian American Whiz Kids'. Since then, they have gone on to frequent fashion pages of the likes of Vogue and GQ, photographed by such luminary photographers as Arthur Elgort, Ellen von Unwerth, and Walter Chin, and been featured in ad campaigns for GAP, Anne Klein and Bodyshop, among others. In 2003, they were named three of People Magazine's 50 Most Beautiful People.
The Ahn Trio is in high demand, performing and leading master classes and workshops across the United States and around the world. Whether they are playing in Vienna's Musikverein, New York's Lincoln Center, Leipzig's Gewandhaus, Beijing's Concert Hall, Istanbul's Aya Irini in Topkapi Palace, or for 10,000 screaming fans at the World Music Festival in the Czech Republic, they share their innovative spirit and ever-evolving vision of music.