JazzBonez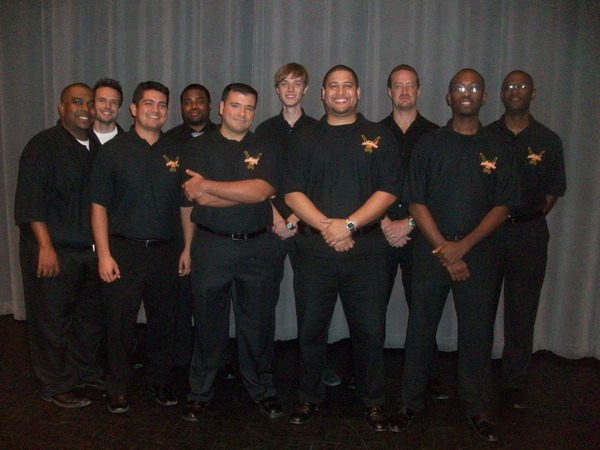 Biography
Known for being "an eclectic group with high energy" JazzBonez, a trombone ensemble based in Austin, Texas, has become one of the nation's premiere jazz trombone ensembles. The group came together in 2006 while attending graduate school at The University of Texas at Austin. JazzBonez consists of trombonists Mitch Butler, Paul Deemer, Oscar Diaz, Emede Gonzalez, Andre Hayward, Martin McCain, Javier Stuppard, and Ulrican Williams. Rhythm section members include Austin Kimble, piano; Kris Afflerbaugh on bass; and Patt Kennedy on drums.
As a jazz trombone ensemble, the band is committed to promoting the trombone and continuing the legacy of great jazz 'bone groups of Slide Hampton, JJ Johnson, Kai Winding and the Capitol Bones. In 2007, under the name Texas Jazz Bones, the ensemble won the International Trombone Association's Kai Winding Jazz Trombone Ensemble Competition and the Eastern Trombone Workshop's National Jazz Trombone Ensemble Competition.
The group has performed with renowned trombone artists such as Paul McKee, Harry Watters, Michael Davis, Reggie Watkins, Tony Baker and Bill Reichenbach. JazzBonez performed at the 2007 Eastern Trombone Workshop in Fort Myer, VA and International Trombone Festival in Las Vegas, NV. JazzBonez has also been featured at the 2008 TMEA Convention in San Antonio, TX and 2010 International Trombone Festival as well as the Texas Jazz Festival in Corpus Christi, TX since 2008. They continue to reach out to the community by performing at various schools and other educational opportunities.
JazzBonez has recently released their debut album Watch It! on the Summit Record label.
---