Al Hermann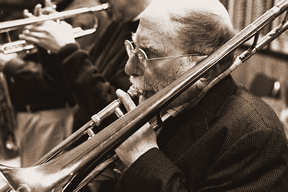 Biography
Originally from New Orleans, and while still in high school there, Allen "Al" Hermann spent his week-ends on the LSU campus in Baton Rouge, Louisiana, absorbing the formidable talents of trombonist Carl Fontana – Al's mentor. Today, Fontana says: "Nobody gets around the horn any better than Al Hermann.
While in New Orleans, Hermann was featured with the Dukes of Dixieland, called for by the New Orleans Symphony, and was a regular at the Roosevelt (Fairmont) Hotel, where he backed such luminaries as Ella Fitzgerald, Tony Bennett, Julie London, and Peggy Lee. Hermann has sided with Lionel Hampton, Buddy Morrow, Wild Bill Davidson, Doc Cheatham, Ellis Marsalis, Spike Robinson, and many other outstanding musicians.
Hermann remains much in demand at clubs and festivals around the country and was chosen the featured trombonist at the Southern California Jazz all-Stars performance in Sacramento in 1986. Al has also played with President Bill Clinton at Vail, Colorado.
---