Chris Gekker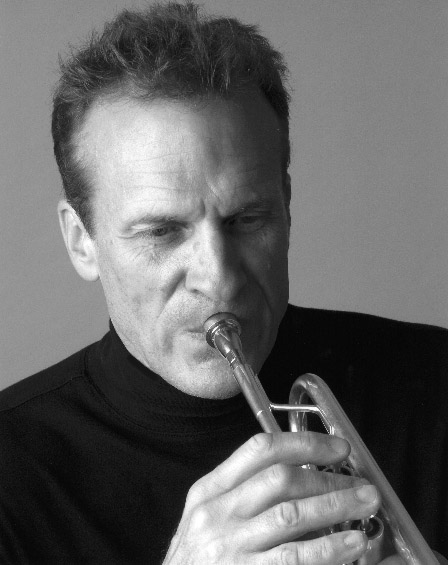 Biography
Chris Gekker is Professor of Trumpet at the University of Maryland School of Music and currently lives in the Washington, DC area. He has been featured as soloist at Carnegie Hall, Lincoln Center, and throughout the United States, Europe, and Asia. After performances of Bach's Christmas Oratorio and Brandenburg Concerto no. 2 at Carnegie Hall, the New York Times praised his "bright virtuosity" and described his playing as "clear toned and pitch perfect." Chris appears as soloist on more than thirty recordings and on more than one hundred chamber music, orchestral, and jazz recordings. CD Review called his recording of Copland's Quiet City "a model of quiet perfection" and in an overview of several solo recordings Grammophone Magazine described his performances as "astonishingly poised." Of his recording of Eric Ewazen's Sonata for Trumpet and Piano American Record Guide states "Ewazen writes that he had Gekker's sound in his mind when he wrote the Sonata, and I can understand why. It is round, soft edged, and gorgeous at soft dynamic levels, and always full and well controlled at fortissimo." Chris is one of the featured artists on Deutsche Grammophon's 2005 compilation "Masters of the Trumpet."
Chris' most recent solo recordings include the Bach 2nd Brandenburg Concerto and "Winter," a CD of music for trumpet and piano by Eric Ewazen and David Snow. Of the Bach, Classics Today writes "Chris Gekker plays with brilliance and panache," and BBC Magazine states "the trumpeter gives a secure and glittering account." On "Winter" American Record Guide writes "I cannot think of another trumpet player I'd rather listen to than Gekker, and he is at his sweet, velvet-toned best in these pieces." Of the 2009 recording "Unchanging Love" (music of Larry Bell), Fanfare magazine wrote "Chris Gekker has made himself known over the years as a superb trumpeter who is able to produce meltingly flute-like tones at one extreme, and to bring down the house at the other."
Chris was a member of the American Brass Quintet for eighteen years, and on the faculties of the Juilliard School, the Manhattan School of Music, and Columbia University. He was principal trumpet with the Orchestra of St. Luke's, frequently performed and recorded as principal with the Orpheus Chamber Orchestra, and often a guest with the Chamber Music Society of Lincoln Center. He has been a guest principal with the New York Philharmonic, the San Francisco Symphony, and the Santa Fe Opera. Chris has performed and recorded with many jazz and contemporary artists, and often for television and movies. In 2009 he was invited to record and perform with Sting, and is featured on the DVD "A Winter's Night" which was recorded live at Durham Cathedral in Durham, England.
In the Washington DC area, Chris serves as principal trumpet of the National Philharmonic at Strathmore, is a member of the Washington Symphonic Brass, Post Classical Ensemble and performs regularly at Wolf Trap. During the summer he is principal trumpet of the Eastern Music Festival in Greensboro, NC.
Many of his former students occupy orchestral positions in major symphonies throughout the world, as well as being prominent in jazz, chamber, and commercial music. His Articulation Studies, 44 Duos, Endurance Drills, Piccolo Trumpet Studies, and 24 Etudes are available from Colin Publications and are sold worldwide. Chris was born in Washington D.C., grew up in Alexandria, Virginia, and is a graduate of the Eastman School of Music and the University of Maryland. His teachers include Emerson Head, Sidney Mear, Adel Sanchez, and Gerard Schwarz.
---