M. Dee Stewart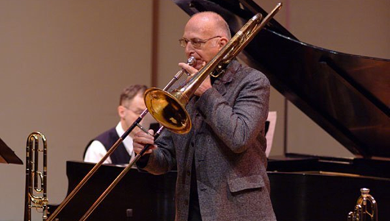 Biography
M. Dee Stewart was a member of the Philadelphia Orchestra for 18 years. He previously taught at the Curtis Institute of Music. He has given master classes worldwide, including the annual College Audition Preparation Workshop at Indiana University. Mr. Stewart has given recitals on alto, tenor, and bass trombones, euphonium, and bass trumpet.
Mr. Stewart developed and directed the Lewis Van Haney Philharmonic Prize. He has appeared with the New York Philharmonic, Chicago, San Francisco, and Saint Louis Symphonies, Minnesota Orchestra, and Summit Brass. Mr. Stewart's recordings include Stewart Sounds, Trombones Under the Tree with Joseph Alessi, Mark Lawrence, and Carl Lenthe; and Grammy Award-winning recordings with the Philadelphia Brass Ensemble. Three recent releases are Pictures at an Exhibition and Don Quixote (IU MarketPlace) and Dee Plus (www.StewartSounds.com).
Mr. Stewart's students hold major positions as performers and pedagogues. He has written articles published by ITA, T.U.B.A., and Online Trombone Journal. His books include Arnold Jacobs: Legacy of a Master and Philip Farkas: Legacy of a Master. Mr. Stewart invented the Stewart Stand for euphonium and tuba.
Mr. Stewart served as a Co-Organizer of the Second International Brass Conference. His awards include Educational Press Association of America Distinguished Achievement Award of 1991, Indiana University School of Music Teaching Excellence Recognition Award 1998, and the 1998 Neill Humfeld Award for Teaching Excellence from the International Trombone Association.
Maintaining an active performance schedule, Stewart has two new solo CD's due for release in the near future. They are Concert Piece and Quartets of David Baker and Duo Tromboni "Con Amore" with Fabio Sampo.
---