Kamau Daaood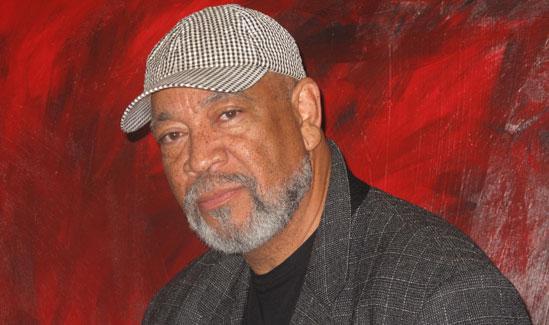 Biography
A mythic figure in the Southern California arts scene, Kamau Daáood is a performance poet, educator and community arts activist who is widely acknowledged as a major driving force behind Los Angeles' black cultural renaissance. Now with the release of his debut album, Leimert Park, Kamau unleashes his galvanizing spirit on the world.
Equal parts Griot funk, straight ahead, blues, hip hop and hard bop, Leimert Park veritably pulsates with creative energy. The album is named after the thriving Los Angeles community that is fast becoming the west coast's black cultural mecca. On his first full-length recording, Kamau captures the true essence of the community, drawing on the area's finest musicians at the apex of their decades-long collaborative history.
Thus, the album features performances by jazz drumming legend Billy Higgins, renowned west coast pianist Horace Tapscott, master bassist Dr. Art Davis, flutist James Newton, and the members of B Sharp Jazz Quartet. Also contributing are percussionist Munyungo Jackson, pianist Nate Morgan, reed players Michael Session and Phil Vieux, violinist Karen Briggs, bassist Roberto Miranda, vocalists Dwight Trible and Carmen Bradford, and drummer Willie Jones III.
The resulting album reflects Leimert Park's eclectic musical landscape. "Her," which Kamau dedicates to his wife, boasts jazzy Brazilian rhythms played by Billy Higgins on guitar, while the title track is a hip hop groove, invoking images from the vibrant neighborhood. The North African "World Music" transports the listener, while the free-jazz sounds of "Liberator of Spirit" and the hard-bop "Tears" draw us to the complex world of poetry and music. All in all, Leimert Park is the musical portrait of a community's coming of age as seen through the eyes of one of its most devoted inhabitants.
"Many of the poems explore the dichotomies of life," Kamau explains. "They talk about the relationship between struggle and transformation, suffering and healing, pain and hope. A song like 'Tears' explores the strife of artists as they work to heal themselves and their world. 'Balm of Gilead,' which is about Billie Holiday and Lester Young, deals with their common hardships and how they drew from that well and made it into this sweetness that they poured on our lives. 'Art Blakey's Drumsticks' is a call to action. It points to the community's challenges but at the same time evokes people to find solutions. In a sense, the whole album is about the artist as a healer and an agent for change."
For Kamau, Leimert Park is a deeply symbolic album, marking a long history of cultural work in the Los Angeles area. Born and raised in Los Angeles, the multi-talented artist was instrumental in transforming Leimert Park into the cultural center it is today. In 1989 he and drummer Billy Higgins teamed up with a handful of artists to establish the World Stage. Under Kamau's and Billy's leadership this store-front performance gallery became Los Angeles' black creative epicenter. The park is now home to a wealth of performance spaces, studios, galleries, shops and restaurants, and is widely viewed as the symbol of Los Angeles' rebirth. Less than a decade later, Kamau's reputation has grown to that of a folk hero. The author of two books of poetry, Ascension and Liberator of the Spirit, his work has been translated into Spanish and is featured in Ten Contemporary American Poets. An award-winning documentary film about his life, appropriately titled Life Is a Saxophone, premiered in 1985. He has been a guest artist on several recordings, including the spoken word compilation Jazz Speaks and B Sharp Jazz Quartet's Searching for the One. Kamau has taught at California State University Northridge and at Otis Art Institute for Parson School of Design, and was honored by the USC Master of Professional Writing Program for his accomplishments as a writer.
Kamau developed his literary skills as a young member of the legendary Watts Writer's Workshop. His tenure as a "word musician" with the Pan African People's Arkestra under the direction of Horace Tapscott, helped to shape his bebop-flavored poetic approach. A veteran of hundreds of readings, Kamau developed an underground following in the west coast performance circles, where he has been known to bring an audience to its feet. His readings have brought him to podiums with Gil Scott Heron, The Last Poets, Amiri Baraka and Sonia Sanchez, and have taken him as far away as Egypt and Somalia.
Today, Kamau's blend of poetry and music is more relevant than ever. The burgeoning popularity of hip hop and the nationwide explosion of cafe culture have spurred spoken word into a phenomenon not witnessed since the heyday of the Beat movement. Amidst this backdrop, Kamau Daáood heralds his emergence as a word-wielding blues prophet, a new age Moses. With its compelling portraits of a community reborn, Leimert Park is a timely tale of redemption, dignity and salvation. In celebrating their community, Kamau and his fellow artists offer a soulful solution to the problems facing our world. Leimert Park is a masterful and ambitious recording that blurs the distinctions between art, entertainment and education.
---