R3 Big Band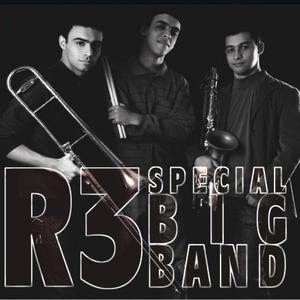 Biography
The "R3" in this Brazilian-based band's name refers to brothers Rafael, Renato and Roger Rocha who together comprise its heart and soul. The "Special" pertains to just about everything else on this impressive debut album. Indeed, there could be even more "R's" in the title, as the pianist is Flavio Rocha (presumably another sibling), Robson Rodrigues plays electric bass and Joabe Reis trombone. But those three R's will more than suffice. And while no more than nine musicians are listed on any particular number, that is misleading, as Roger Rocha doubles from time to time as a complete saxophone section and brother Rafael does the same for trombones, thanks to overdubbing. That's not to say that everything is strictly "big band," as the trumpets sit out on three tracks while Bruno Santos plays flugelhorns (plural) on another with Roger on tenor and soprano sax and Rafael on Fender Rhodes.
Rafael Rocha serves as the band's chief arranger (ten of a dozen tracks); brother Roger co-arranged the buoyant opener, "Vem com Josue Lutar em Jericho" (Joshua Fought the Battle of Jericho). Apropos the other charts, one (the brief, chorale-like "Sou Feliz") was written by Santos (for brass and reeds only), the other ("O Festim de Gloria") by Luiz Vanderlei Rocha (verified in the liner notes as father of the brood, akin to a Latin-style Ellis Marsalis and Sons). Roger (tenor, soprano sax) and Rafael are the group's principal soloists, and each is splendid, as is Renato who keeps the rhythm percolating with help from Flavio, bassists Rodrigues, Cristiano Martins, Andre Vasconcelos and Hugo Maciel, guitarist Giovani Malini and percussionist Leo De Paula. Others who improvise with aplomb are Santos, Malini, trumpeter Elias Junior and tenor saxophonists Marcelo Martins and Paolo Levi.
"Jericho," as it turns out, isn't the only familiar tune; "Ha Um Pais" is in reality "Danny Boy," and "Porque Vivo Esta" (emphatically introduced by Renato's pliable drum set) sounds like another specimen from the Great American Songbook whose thinly disguised melody has managed (so far) to confound these usually dependable ears (or, it could be an English folk song from the Ted Heath library). Be that as it may, even the lesser-known tunes are consistently engaging, thanks to Rafael's well-drawn arrangements and the band's unswerving expertise. The samba "Aonde for Irei" is bright and lyrical, the ballads "Como Agradecer a Jesus" and "Alvo Mais Que a Neve" warm and beguiling with earnest solos by Roger and Rafael. That's not to underplay anything else, as this is an album that gladdens from start to finish; R3 is indeed a "Special" big band, one that is well worth hearing.
---