Kevin Coelho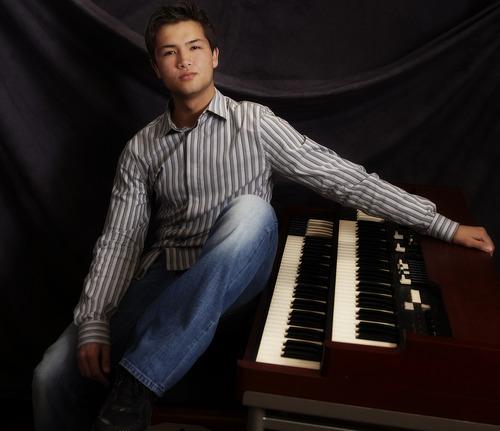 Biography
Kevin Coelho stands out as jazz's preeminent rising B-3 star. At 18, he's already apprenticed with several organ heavyweights, including Tony Monaco and Wil Blades, and released two widely acclaimed albums, 2012's Funkengruven and 2013's Turn It Up, which noted critic Ted Gioia hailed as one of the year's best CDs.
Classically trained in piano, Coelho fell in love with the sound of the Hammond B3 when he first heard a recording of "Green Onions" by Booker T & the MGs, which led him to the definitive soul jazz and hard bop recordings by jazz organ masters like Jimmy McGriff, Jimmy Smith and Don Patterson.
That summer he started attending the Stanford Jazz Workshop – last year marked his 7th year at the program. He has won the Outstanding Soloist Award 4 years consecutive, and has been honored with the program's Shape of Jazz to Come Award (2011). In 2013, he won the program's Merit Scholarship, only awarded to two students per year, an honor earned by young stars such as pianist Taylor Eigsti, guitarist Julian Lage, and vocalist Laila Smith.
Coelho has an impressive performance history to match his playing ability – he performed at the Stanford Jazz Festival in 2011 with Robben Ford and in 2013 with Henry Butler. He also performed at the San Jose Jazz Festival in 2011 and 2012 with his own group, and performs regularly at San Francisco venues like Club Deluxe and Madrone Art Bar. Indeed age is but a number, as Coelho's partners on the bandstand include such distinguished artists as Chester Thompson, Albert "Tootie" Heath, Khalil Shaheed, Houston Person, Donald "Duck" Bailey, Barry Finnerty, and Victor Wooten among others.
Coelho is now exploring other avenues of music – he manages and plays keyboards for the popular hip hop/funk group The St. Valentinez. Under his management, the St. Valentinez recorded their debut album, "Bullet with the Butterfly Wings", and ran a successful Kickstarter project for $18K to fund its production. The St. Valentinez have played with Coelho at Slim's, The New Parish, and The Milk Bar among other major Bay Area venues.
---