Ko-Ichiro Yamamoto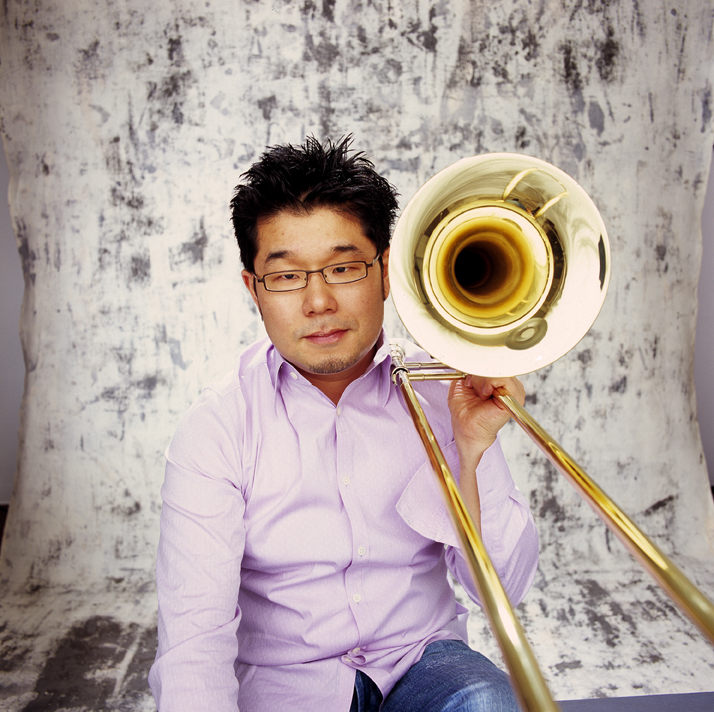 Biography
Ko-ichiro Yamamoto, one of the foremost Japanese trombonists of his generation, is the principal trombonist of the Seattle Symphony, a faculty member of the University of Washington School of Music, and the newest member of the Center City Brass Quintet. He formerly was a trombonist with the Metropolitan Opera Orchestra in New York City for 10 seasons. In summer 2012, he was the acting principal trombonist of the New York Philharmonic and co-principle trombonist of the All Star Orchestra.
Active as a soloist, recitalist, chamber music performer, and clinician, Ko-ichiro has performed with many groups, including the New York Philharmonic, Metropolitan Opera Chamber Orchestra, and as a guest solo principal trombonist of the NHK Symphony Orchestra, Tokyo. He is also an active recording artist and has performed on numerous TV and movie recordings in New York and Tokyo. Besides that, he has been invited frequently to give recitals and master classes throughout the United States, Asia and Europe.
Ko-ichiro has been a guest soloist with Tokyo Symphony Orchestra, the Osaka Municipal Symphonic Band (OMSB), New Philharmonic Japan, U.S. Army Band (Pershing's Own), Yamaha Wind Ensemble Japan, University of Washington Wind Ensemble, Eastern Music Festival, Taipei Symphonic Band, Symphonic Winds of Singapore, and the Seattle Symphony Orchestra.
Recently, he was a featured soloist of both 2007 Eastern Trombone Workshop in Washington, DC and the 2008 International Trombone Festival in Salt Lake City, Utah. In summer 2012, he will be the future soloist at International Trombone Festival in Paris, France. He will also be the soloist and faculty member at the Italian Brass Week Festival in Rome.
As a clinician, he has given master classes at numerous colleges both in the United States and Asia. Ko-ichiro was a featured soloist and a faculty of Asian Trombone Seminar in Taiwan in 2009, a featured soloist and clinician of the "Trombone Day in Kumano 2009", a featured soloist and a faculty of Curuso Internacional Semena Musical de Salseda in Spain in 2009, Eastern Music Festival in 2010, and Hamamatsu Music Academy and Festival in Japan in 2010.
He has won numerous awards, prizes, and scholarships in Japan and abroad, including fourth place in the International Trombone Association Competition in Australia (1998), first grand prize of the Japan Wind and Percussion Competition (1991), and diploma prize at the Prague International Music Competition (1992).
Born in Tokyo, he began studying trombone at age 12 with his father, Tatsuo Yamamoto, and Mr. Yoshiki Hakoyama. After studying at Tokyo College of Music Senior High School, he was accepted at the Franz Liszt Music Academy as a student of Gusztav Hoena and Sztan Tivador. While at the academy, he joined the Budapest Festival Orchestra as a trombonist. He studied with Joseph Alessi, principal trombonist of the New York Philharmonic, at The Juilliard School from 1994-96.
His discography includes "Proof "and "Family Tree" (Kosei Publishing) "Trombone Concerto" and "Ballade" (Octavia Recordings). Ko-ichiro has been a Yamaha performing artist/clinician since 2008 and performing on new Yamaha Xeno 882OR and 883ORX prototype trombone.
---