Matthew Van Emmerik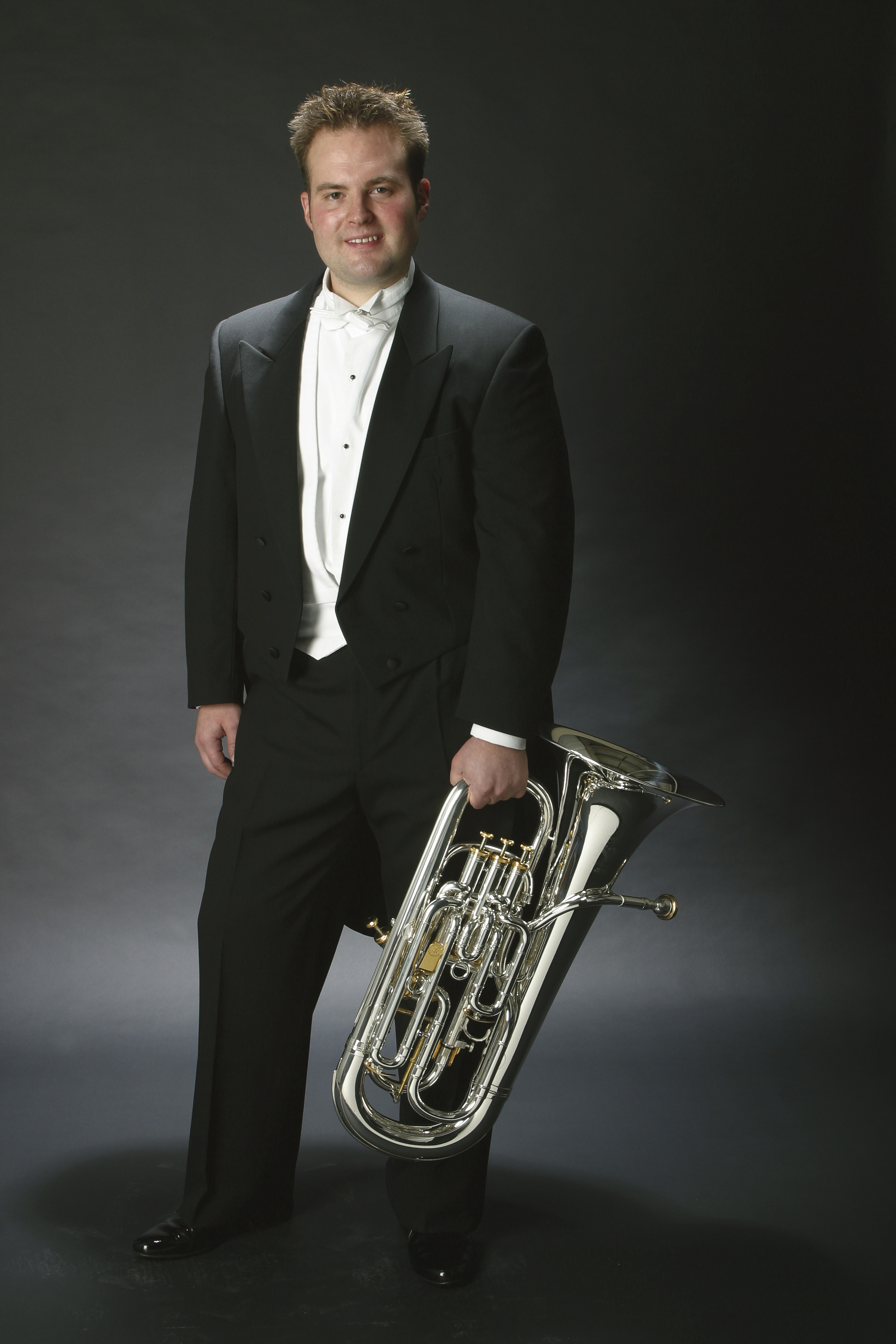 Biography
Dr. Matthew van Emmerik was born in Bendigo, Victoria, Australia in 1978.
He is the former principal euphonium player with the Central Band of the
Royal Air Force – Uxbridge (United Kingdom) and all Royal Australian Navy
Bands respectively. He has also held high profile and principal positions with
the worlds leading brass bands including: Black Dyke, Fodens, Leyland,
Desford Colliery, Brighouse and Rastrick, Dalewool, Kew Band Melbourne
and National Australia Brass.
Matthew performed The Philip Wilby Euphonium Concerto with the
Tasmanian Symphony orchestra, as the first soloist to perform a euphonium
concerto with an Australasian Symphony Orchestra. His playing profile is truly
extensive and has performed with the Auckland Philharmonia, Melbourne
Symphony, Sydney Symphony and West Australian Symphony Orchestras
respectively.
In January 2009 Matthew returned from Portugal, where he performed 'The Planets' with the Oporto National Orchestra. His most recent orchestral performances were performing in Shostakovich's 'Lady Macbeth of Mstensk' with the Australian Opera and Ballet Orchestra in 2009. He again performed with the Sydney Symphony and Melbourne Symphony in 2010 and with the Auckland Philharmonia performing the Planets in June 2011.
In 2007 Matthew became the Australian National Champion of Champions soloist at the 2007 National Band Championships of Australia, which were held in Ivanhoe, Melbourne, Victoria, Australia.
Matthew performed at The 2008 International Tuba and Euphonium Conference (ITEC) In Cincinnati, Ohio, USA, where he performed alongside some of the world's finest brass musicians. During this trip a world premiere piece composed for Matthew entitled 'Utaki – The sacred Grove' by Melbourne composer Mike Fitzpatrick won the International 'Harvey G. Philips Award for Excellence in Composition'. He has since performed at the 2010 and 2012 conferences in Tucson, Arizona and Linz, Austria respectively. He has performed with 'Pershings Own' US Army Band and The US Air Force Band at these prestigious events.
Matthew is the first Australian euphonium artist to record a commercially available CD towards his PhD studies at the Sydney Conservatorium of Music, which is entitled: 'Neath Austral Skies. This CD has already received critical acclaim all over the world and is available for purchase from the CDs for sale page.
'Utaki – The Sacred Grove' is Matthew's third CD and was released in December 2009 under the USA Summit Records label, it is full of new repertoire which had not been recorded and features brass piano and string quartet backing. This CD is also available from the CDs for sale page.
In January 2010 Matthew was awarded the inaugural 'Australasian Band Conductors (ABC) scholarship' for 2010 with the St Marys Band, in Sydney, Australia. Throughout 2010 Matthew received conducting tuition and performance educational workshops with both the music advisor to St Marys Band Club, Professor David King and Dr. Roy Newsome (Dec) (Conductor Laureate – University of Salford).
Matthew is the solo euphonium player with Australia's premiere brass band National Australia Brass and has adjudicated contests all across Australia, New Zealand, the USA and Europe.
Currently Matthew is the conductor of the Box Hill City Band, a community brass band based in the Eastern suburbs of Melbourne – in 2013 and in the space of nine months, Matthew and the band have achieved more contest and concert success than in any of the bands previous 125 year history. More information on the band can be found at: www.facebook.com/boxhillcityband?ref=hl
Matthew van Emmerik is an Adams Custom Brass Artist and Clinician and performs on the Adams Custom Euphonium courtesy of the Adams Musical Instrument Company, he plays on his own VAN EMMERIK Signature Mouthpiece range exclusively. Matthew is now a Reunion Blues Gig Bag Endorsee and Artist
---