Michelle Murray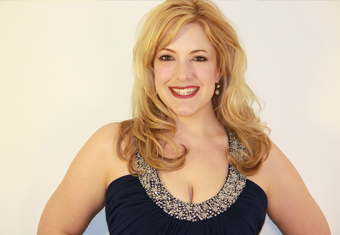 Biography
In her early years Connecticut lyric soprano Michelle Murray Fiertek appeared in numerous musicals and opened "The Voyage of the Little Mermaid" for Disney MGM Studios (now Disney's Hollywood Studios) in Orlando, FL, as one of the original Ariels. She went on to work as the lead singer aboard the S. S. Discovery I and, in 1995, became the first American singer to be invited to perform both Japanese and American music in Minakami, Japan. Michelle later attended Arizona State University, graduating summa cum laude in 2001 with a double Bachelor's Degree in choral education and vocal performance.
Weill Recital Hall, Carnegie Hall, NYCIn 2003, Michelle and pianist David Murray released their first album, Blue: The Complete Cabaret Songs of William Bolcom and Arnold Weinstein (Summit Records), described as "exemplary" by BBC Music Magazine. Michelle completed a Masters of Music in Vocal Performance at California State University Long Beach in 2007, where she also served as a member of the voice faculty. Michelle made her Carnegie Hall debut in December 2005, performing selections from her first album in Weill Recital Hall. Her performance was described as "First rate – engaging and authentic" in New York Concert Review.
In September 2006 she released her second album for Summit Records, The Juliet Letters. Michelle has been a faculty and guest recital artist at venues including California State University, San Bernardino, Arizona State University, California State University, Long Beach, California Baptist University, and Georgia Southern University. She has also been featured throughout the United States as a soloist in many large-scale choral works, including Fauré's Requiem, Mozart's Coronation Mass and Mass in C Minor, Vivaldi's Gloria, Bach's B Minor Mass and Handel's Dettingen Te Deum and Messiah.
Being especially interested in 20th and 21st century American music, Michelle has premiered works by contemporary composers including California composer Adam Gubman's Fungi from Yuggoth, and created both the role of Turtilina in Massachusetts composer Kaeza Fearn's 2009 Plasticlopus: A Puppet Operetta, and the role of Agnes in the world premiere of Arizona composer Kenneth LaFave's opera American Gothic.
Teatro CajaGRANADA Isidoro Máiquez, Granada, SpainIn 2007 she was invited to study and perform Spanish Art Song in the Festival Internacional: Interpretación de la Canción Española in Granada, Spain under the direction of such famed musicians as pianist Miguel Zanetti and mezzo-soprano Teresa Berganza. She will return to Granada this summer as a guest recital artist and lecturer for the program. Currently Michelle resides in Connecticut where she performs, teaches, and is completing her D.M.A degree in Vocal Performance at The Hartt School, University of Hartford.
---