New Zealand Symphony Orchestra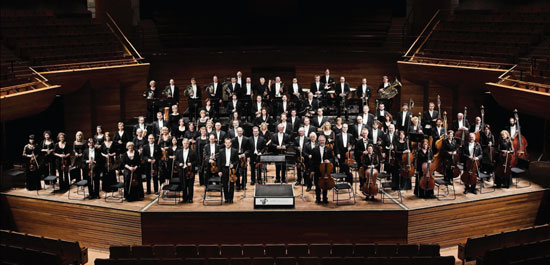 Biography
The New Zealand Symphony Orchestra, founded in 1946, is the country's leading professional orchestra. It has an establishment of 90 players and performs over 100 concerts annually. Touring within New Zealand looms large in the Orchestra's activities. All its main symphonic programmes are presented in Auckland and Wellington, and as well as this, the Orchestra visits some 25 New Zealand towns and cities annually.
In August 2008 the Orchestra travelled to China to take part in the Beijing Olympic Cultural Festival. During this prestigious tour the NZSO performed at the Forbidden City and the National Centre for the Performing Arts. A subsequent Listener article described this as New Zealand's "other gold".
In 2005 the NZSO undertook a highly successful tour that included performances at the BBC Proms, Amsterdam's Concertgebouw, Snape Maltings in England and the World Expo at Aichi in Japan. The London Evening Standard headlined the Proms concert as a "Triumph for Kiwis" while The Times wrote of "the feel-good energy of this Orchestra: its brightly focused strings, its characterful woodwind and its noble brass".
Pietari Inkinen was appointed the NZSO's Music Director from January 2008. He succeeds James Judd who held the position from 1999 to 2007 and is now Music Director Emeritus. Other conductors who have worked with the NZSO include Xian Zhang, Alexander Lazarev, Dmitry Sitkovetsky, David Atherton, Yan Pascal Tortelier and Edo de Waart. Soloists who have appeared with the Orchestra recently include Lang Lang, Sa Chen, Lynn Harrell, Cho Liang Lin, Hilary Hahn, Vadim Repin, Yefim Bronfman, Simon O'Neill, Steven Isserlis, Jonathan Lemalu and Dame Kiri Te Kanawa.
The NZSO has an extensive catalogue of CD recordings, mostly on the Naxos label. Over one million of these CDs have been sold internationally in the last decade and they have received critical acclaim. Gramophone magazine welcomed the NZSO's first recording with Pietari Inkinen (of Sibelius tone poems) by saying "perceptive and engaging Sibelius from this promising young Finnish conductor: Not only does he draw some high-quality, notably zestful playing from his new charges [the NZSO], he directs … with such keen temperament, abundant character and sensitivity to texture and nuance that they come up sounding strikingly new-minted". In the September 2008 issue, the Orchestra's recording of John Antill's Coroboree is given star billing, joining the list of NZSO CDs that have been featured in the "Editor's Choice" section. Other repertoire recorded by the Orchestra includes music by Elgar (three discs), Ferdinand Ries, Beethoven, Bernstein, Copland, Lilburn, Sculthorpe, Frank Bridge, Akutagawa, Mendelssohn, Honegger, Liszt and Vaughan Williams.