Nicola Ferro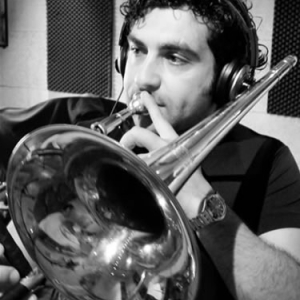 Biography
Nicola Ferro was introduced to music at a very early age by his family. He enrolled at the State Music Conservatory in Salerno and studied there until 1996 when he was awarded his Diploma in Trombone, achieving a very high mark, under the guidance of Maestro Antonio Marzullo and Maestro Roberto Bianchi. At the same time he also received his Secondary School Leaving Certificate (diploma di maturità) from Alfano 1° Secondary School, Salerno in Sociology/Psychology/Pedagogics.
He has continued to study and improve his skill by following training and specialization courses held by internationally known Maestri such as-: ANDREA CONTI Pricipal Trombone, Santa Cecilia Symphony Orchestra, Rome. IAN BOUSFIELD Pricipal Trombone, Wiener Philharmonic Orchestra CHARLES VERNON Bass Trombone, Chicago Symphony Orchestra ANDREA BANDINI Pricipal Trombone, Orchestre de la Suisse Romande Geneva ANTONELLO MAZZUCCO Bass Trombone, RAI Symphony Orchestra Turin ROBERTO SCHIANO Internationally known Freelance Jazz Trombonist JACQUES MAUGER Concert performer and professor at the Superior Conservatory Paris LUCA BENUCCI Pricipal Horn, Municipal Theatre, Florence FABIANO FIORENZANI Pricipal Trombone, Municipal Theatre, Florence EARLY ANDERSON Freelance Jazz Trombonist, New York GIANLUCA SCIPIONI Pricipal Trombone, Teatro Regio, Turin
After taking part in and winning various public selection processes and auditions, Nicola Ferro is currently employed as an Orchestra Professor and has toured in Italy, France, Germany, Belgium, Luxemburg, Denmark,Spain, Brazil and the United States with the following orchestra:Fenice Theatre Orchestra, Venice; Italian Camera Orchestra, Rome; Teatro Massimo Orchestra, Palermo; International Orchestra of Italy, Fermo; I.R.O., inter-regional 'Jugendmusikfestival Ochsenhausen, Germany; Friuli Venezia Giulia Orchestra, Udine; W.Y.O. World Youth Orchestra, Rome; Regio Theatre Orchestra, Turin; San Carlo Theatre Orchestra, Naples; San Remo Symphony Orchestra; Nuova Scarlatti Orchestra, Naples; Teatro dell'Opera Orchestra, Rome; A. Toscanini Orchestra, Parma; Guido Cantelli Orchestra, Milan; Fonopoli Orchestra, Rome; Instrumental 'Camerata' city of Prato; Conservatory Orchestra, Naples, , MediaAetas Theatre Company, Naples, Ravello, City of Music Orchestra; Teatro Regio Orchestra, Parma; EJYO, (European Jazz Youth Orchestra, Copenhagen, Denmark and the International EJYO. In the latter, Nicola Ferro was the only musician representing Italy. In collaboration with the International EJYO, he recorded a cd – 'Swinging Europe Tour 2004, recorded in Brazil, published by the AXIS label and distributed by Libra Music, Denmark.
From the very outset of his career Nicola Ferro has had the privilege of working with and being directed by Maestri. RICCARDO MUTI;György Györiványi Ráth; LORIN MAAZEL; GEORGE PRETRE; DONATO RENZETTI; ISAAC KARABTCHEVSKY; LOUIS BAKALOV; JULIAN KOVATCHEV; SALVATORE ACCARDO; BRUNO TOMMASO; GABRIELE FERRO; DANIEL OREN ETC.
He has taken part in varioius television programmes – as a trombonist – such as; 'Domencia In' 1998 Raiuno 'I Fatti Vostri' 1997 Raidue, partnering Antonio and Marcello and the 'Mediterranea' Orchestra. 'La Sera dei Miracoli' 1999, partnering Lucio Dalla, Gianni Moranti, Nino D'Anglelo and Mango with 'La Nuovo Scarlatti' Orchestra. He was also trombonist on Fred Buongusto's show in 1997 as part of the 'Mediterranea' Orchestra. He also worked with Mariella Nava (1999) as part of the 'Fonopoli' Orchestra, Rome. In 2004 he recorded the cd 'Specula& Gemini' with the Jazz a Majella Orchestra, Naples, the music for which was written by Maestri Bruno Tommaso and Roberto De Simone, produced and distributed by Raitrade. He won the 'Concorso Musicale Nazionale' – Music on the Web – organised by Bresciaonline – Brecia – for two consecutive years. In 2002 there were 465 participants, in 2003, there were 600. As part of the 'I Signori Chonda' project, he composed and recorded 2 compilation cds under the Sony DADC label, City Records Milan. During the academic year 2004 2005, ?stato ed?? And in 2006 2007 he was Professor of Trombone and Trumpet at the State Music Conservatory in Salerno. He has also published a teaching book for the trombone called,' Exercises with Mouthpiece TI68 published by Setticlavio di Salerno. He has been working with the singer Meg since 2005 and played on the cd 'Psycoldelice'. Nicola Ferro has always been attracted by harmonies and by the various ways of arranging tunes of different musical types. Dedicating himself to Discographic Artistic Production, as well as to composing and to computerised music – studying under Maestro Roberto Altieri and then Maestro Bruno Tommaso, has allowed him to develop this passion; over the years he has gained freedom of expression as well as a thorough knowledge of musical expression.
Two of his original compositions, written for 'Ensamble di Trombe' and Virtual Group – 'CONTRASTO' and 'HOT WIND', are included on the cd 'L'ANACORETA' by A. Giuffredi, with Randy Brecker, produced and distributed worldwide by SUMMIT RECORDS USA DCED392. He has signed a contract as official composer and musical arranger for Alessi Publications, New York, for the first publication of the 'Tetralogy of the sun' project which consists of 4 musical scores for the trombone and piano which are dedicated to Joseph Alessi, first trombone in the New York Philharmonic. Over the years, He and Joseph Alessi have worked together on various musical projects.
He composed 'Air of Manhattan' for the 2007 summer tour in Japan of the brass quintet of the New York Philharmonic Two of his songs, 'Sunset' and 'Daybreak' are included on Joseph Alessi's cd 'Return to Sorrento' which is produced and distributed worldwide by Naxos Records, code 8, 570232. He is currently on the Summit record label in the USA which has produced and published the 'Create' project in which he features as composer, trombonist, arranger, keyboard player, singer, computer programmer and artistic producer. 'Create' was nominated at the 2008 Grammy Awards in Los Angeles in the first 50 albums in the Field 10 category 45. He has also composed 'Red Spain' for Christian Lindberg and Joseph Alessi, a project for 2 trombones and electronic sounds which was performed for the first time in Valencia Spain on 15/04/2008. He is also a Music Ensamble teacher at the international summer courses at Spilimbergo (PN) Italy. He has been asked to play this autumn (2008) for the Valenciana Community Orchestra at the Palau De LesAarts de Reina Sofia in Spain.
Maestro. Nicola Ferro eclectic musician of international fame, multi talented extremely versatile both as a performer and as a composer and trombonist Arranger ranging from Classical Music to Jazz, from electronic music to pop music, from music to movies to Dance Music.Le musical experiences acquired during the career have contributed to a very high level of preparation.
Biography extended
Coming from a family of musicians, his approach to music is through the study of the piano. Subsequently, he began studying trombone. He enrolled and attended the Conservatory of Music "G. Martucci "in Salerno and in the year 1996 he obtained a Diploma in Trombone brilliantly under the guidance of Roberto Bianchi.
Also it follows the Diploma Sociopsicopedagogica at the institute Alfano I ° – Salerno.
Graduated from the Conservatorio San Pietro a Majella in Naples in July 2011, Rapporteur Gianluca Camilli co-speakers Enrico Renna, Loredana Arcaro 110 and praise Praise Commission.
He attended numerous workshops and master classes with the Masters of Advanced Musical world famous as:
Andrea Conti (Principal Trombone Symphony Orchestra Santa Cecilia in Rome);
Ian Bousfield (principal trombone with the Vienna Philharmonic);
Charles Vernon (Bass Trombone Chicago Symphony Orchestra;
Andrea Bandini (Principal Trombone Orchestre de la Suisse Romande Geneva);
Antonello Mazzucco (Bass Trombone RAI Symphony Orchestra Turin);
Roberto Schiano (known Freelance Jazz Trombonist National);
Jacques Mauger (Performer and teacher of the Conservatory of Paris);
Luke Benucci (First Horn Teatro Comunale in Florence);
Fabiano Fiorenzani (Principal Trombone Teatro Comunale in Florence);
Early Anderson (Freelance Jazz Trombonist in New York);
Gianluca Scipioni (principal trombone with the Teatro Regio in Turin).
Since 1995, after passing auditions and competitions, he took part and is currently working as Professor of Orchestra, performing on tour in Italy, France, Germany, Belgium, Luxembourg, Spain, Denmark, Brazil and the USA with the following orchestras:
Orchestra of the Teatro la Fenice in Venice;
Italian Chamber Orchestra Roma;
Orchestra of the Teatro Massimo of Palermo;
International Orchestra of Italy – Fermo;
I.R.O. interregional jugendmusikfestival Ochsenhausen Germany;
Orchestra of the Valencian Community – SPAIN;
Orchestra of the Friuli Venezia Giulia – Udine;
W.Y.O. World Youth Orchestra – Rome;
EJYO European Jazz Youth Orchestra Copenhagen – DK; *
Orchestra of the Teatro Regio in Turin;
Orchestra Sinfonica di Sanremo;
New Scarlatti Orchestra of Naples;
Orchestra of the Teatro dell'Opera in Rome;
A. Toscanini Orchestra of Parma;
Orchestra Guido Cantelli of Milan;
Concert Fonopoli – Rome;
Orchestra of the Teatro San Carlo in Naples;
Instrumental Camerata Town of PRATO;
Orchestra of the Conservatory of Naples;
MediaAetas Theatre Company, Naples;
Orchestra of Ravello City of Music;
Orchestra of the Teatro Regio of Parma;
Orchestra Del Teatro Verdi in Salerno;
* With the EJYO, International Orchestra, Nicola Ferro was the only musician representing Italia.Inoltre recorded in Brazil, with the same orchestra, the CD "Swinging Europe Tour 2004", published by the AXIS label and distributed by Libra Music, Denmark.
Since the beginning of his career Nicola Ferro has worked with many prestigious orchestras directed by great masters such as:
Riccardo Muti
Michael Güttler
Lorin Maazel
Daniel Oren
Antonio Pappano
George Pretre
György Ráth Györiványi
Donato Renzetti
Isaac Karabtchevsky
Louis Bakalov
Nicola Luisotti
Julian Kovatchev
Salvatore Accardo
Bruno Tommaso
Gabriele Ferro
He also participated in the following television programs:
"Domenica in" (1998, Rai Uno);
"I made your" (1997 Raidue), accompanying the duo Antonio and Marcello with the Orchestra "Mediterranean";
"The night of miracles" with the Orchestra "The New Scarlet" (1999, Rai Uno), accompanying Lucio Dalla, Gianni Morandi, Nino D'Angelo, Mango.
He took part in the show of Fred Buongusto, Tour 1997 with the Orchestra "Mediterranean";
Accompanied Frank Sinatra (1999) with the Orchestra of "Fonopoli" (Rome).
He played with MEG to show "STAR" Maurizio Costanzo on SKY April 2008.
In 2004 he recorded with the Orchestra Jazz a Majella (Naples), the disc "Specula & Gemini" with music of Maestro. Bruno Tommaso and Maestro. Roberto De Simone produced and distributed by RaiTrade.
He took part with the CAMERATA INSTRUMENTAL city 'MEADOW in 2006 to the creation of the DVD "LESSON CONCERT" held by maestro Riccardo Muti – "The UNFINISHED" by F. SCHUBERT published by the newspaper THE REPUBLIC spring 2009 and released in the spring.
First place for two consecutive years in the National Music Competition "Music and the Web" organized by Bresciaonline – Brescia (year 2002 to 465 participants / year from 2003 to 600 participants) with the project "The Lords Chonda" which he composed and recorded 2 CD compilation labeled SONY DADC – City Records Milan.
With Edizioni Setticlavio of Salerno has published an educational book for Trombone entitled EXERCISES WITH MOUTHPIECE T168 – 2005 Nicola Ferro.
Since 2005 collaborates with the singer MEG with which he recorded the disc PSYCOLDELICE 2008. Label Multiform – Self distribution.
Always, Nicola Ferro is attracted by harmonies and different ways of arranging the music of various genere.Si is then dedicated to the study of composition and computer music, studying with Maestro Roberto Altieri. Subsequently, with the Maestro Bruno Tommaso, he was able to develop his passion over the years gaining freedom and mastery in musical expression.
It 'also Artistic Producer Discografico (Composer – Arranger).
Nicola Ferro is Composer and Arranger for Official Publications of the ALESSI NEW YORK, having signed a contract for the first publication of the "Tetralogy OF THE SUN" 4 compositions for Trombone and Piano dedicated to Joseph Alessi, Principal Trombone New York Philharmonic.Molte of his compositions are published by this EDITION AMERICAN including the following: Black White; Good evening Trombone; Chonda Music; Contrast; Daybreak; Enry Blue; HOT WIND; Midday; Midnight; Notes of Love; Red Spain; Remember the Life; Solarius; Sunset; The Cat Of Highmount, Wind's Dance.
Nicola Ferro and Joseph Alessi (principal trombone New York Philharmonic) since 2003 collaborating in many different musical projects.
He composed the song "AIR OF MANHATTAN" for Brass Quintet of the NEW YORK PHILHARMONIC for the 2007 summer tour in GIAPPONE.Le two compositions: "SUNSET" and "DAYBREAK" are included in the CD of Joseph Alessi "RETURN TO SORRENTO" product WorldWide and distributed by NAXOS RECORDS cod. 8.570232.Nicola Iron is an artist of the record of the United States of America SUMMIT RECORDS that has produced and published a draft "CREATE" in which participates as a Composer, Trombone, Arranger, Keyboard, Vocal Performer, and Programmer MacPc Music Producer Artistic.
With the CD "he CREATE" has had a Nomination to the GRAMMY AWARDS, Los Angeles in 2008 in the first 50 albums in 10 FIELD CATEGORY 45.
He composed "RED SPAIN" to LINDBERG CHRISTIAN & JOSEPH ALESSI a project for 2 trombones and electronic sounds executed for the first time in Valencia (SPAIN) April 5, 2008.
Two original compositions by Nicola Ferro, for Ensemble of Trumpets and Virtual Group "CONTRAST" and "HOT WIND", are included in the CD 's "hermit" by A. Giuffredi involving Randy Brecker produced and distributed by WorldWide SUMMIT RECORDS USA DCD392.
He composed "REMEMBER THE LIFE" for the X anniversary of Alessi SEMINAR IN NEW MEXICO 2009 performed by the most important American trombonists: Jon Whitaker, Peter Ellefson etc.
And since 2006 'Teacher of the MUSIC ENSEMBLE Summer Courses International INSTITUTE GA FANO of Spilimbergo (PN) with the support of the Presidency of the Council of Ministers.
In autumn 2008 he was invited by the Orchestra Of Valencia in Spain to the PALAU DE LES ARTS DE REINA SOFIA. Director of Maestro Lorin Maazel.
He has composed original music for the "SLIDE FACTORY 2009" INTERNATIONAL FESTIVAL of Trombonists performed in ROTTERDAM – NETHERLANDS with the publication of the DVD released in 2010.
In the academic year 2008/09 was Professor of "composition for popular music" the qualifying period for the training of teachers for the classes of competition A031 / A032, A077 at the Conservatory of Salerno for the matter "COMPOSITION FOR POPULAR MUSIC ".
He composed in 2010 on commission "New Trombone Collective" (HOLLAND) NOESION a project for nine trombones and EQUIPMENT Elettronic for producing the DVD tribute to Urbie GREEN with output for the next 2011, with the first performance on July 5th at ROTTERDAM HOLLAND.
It produced with the label American SUMMIT RECORDS Inc. his new album "EARTH GAMES 2012" prophecy of the Maya. The project entirely created, produced, composed and arranged by Nicola Ferro took part as performers world-renowned musicians, such as: JOSEPH ALESSI, ANDREA TOFANELLI, JUSTIN B. CLARK, ALEXANDRE BELDA CERDA ', NICOLA IRON, DOMENICO ANDRIA, PIETRO CIUCCIO, PASQUALE DE PAOLA.
It also produced with LINDA RECORDS Milan, the original songs DANCE MUSIC with its project of Electronic Trombone "NICOLA'S STYLE".
He wrote commissioned by Jonathan Whitaker "ALABAMA" a composition in memory of the victims of The Tornado Tuscaloosa AL premiere August 5, 2011 in Tuscaloosa.
With the label "ITALIAN WAY MUSIC" Milan produced an electronic music project with his own original compositions entitled "elektrika JAZZ PROJECT".
He was commissioned by the University in USA ALABAMA "THE FATHER SUN" for ALABAMA WIND ENSEMBLE EUROPE TOUR 2012
published by Editions Scomegna Turin.
Since the academic year 2004/05 to 2010/11 was Professor of Trumpet and Trombone at the Conservatory of Music G. Martucci of Salerno.
Since the academic year 2011/12 to 2013/14 State Conservatory of Matera ER Duni.
It produced the CD of Joseph Alessi "Caliente" as a Compositiore, artistic producer, arranger and performer Trombonist
released May 15, 2013, Registered in Italy Zork Digital Planet and New York Alessi Music Studio.
And 'Principal Trombone of the Orchestra Del Teatro Verdi in Salerno "PHILHARMONIC SALERNO" director M °. DANIEL OREN.
NICOLA IRON PLAY INSTRUMENTS SHIRES TROMBONE.
He is currently Professor of Trombone at the Conservatory of Music Stanislaw Giacomantonio of Cosenza.
---