Scott Cossu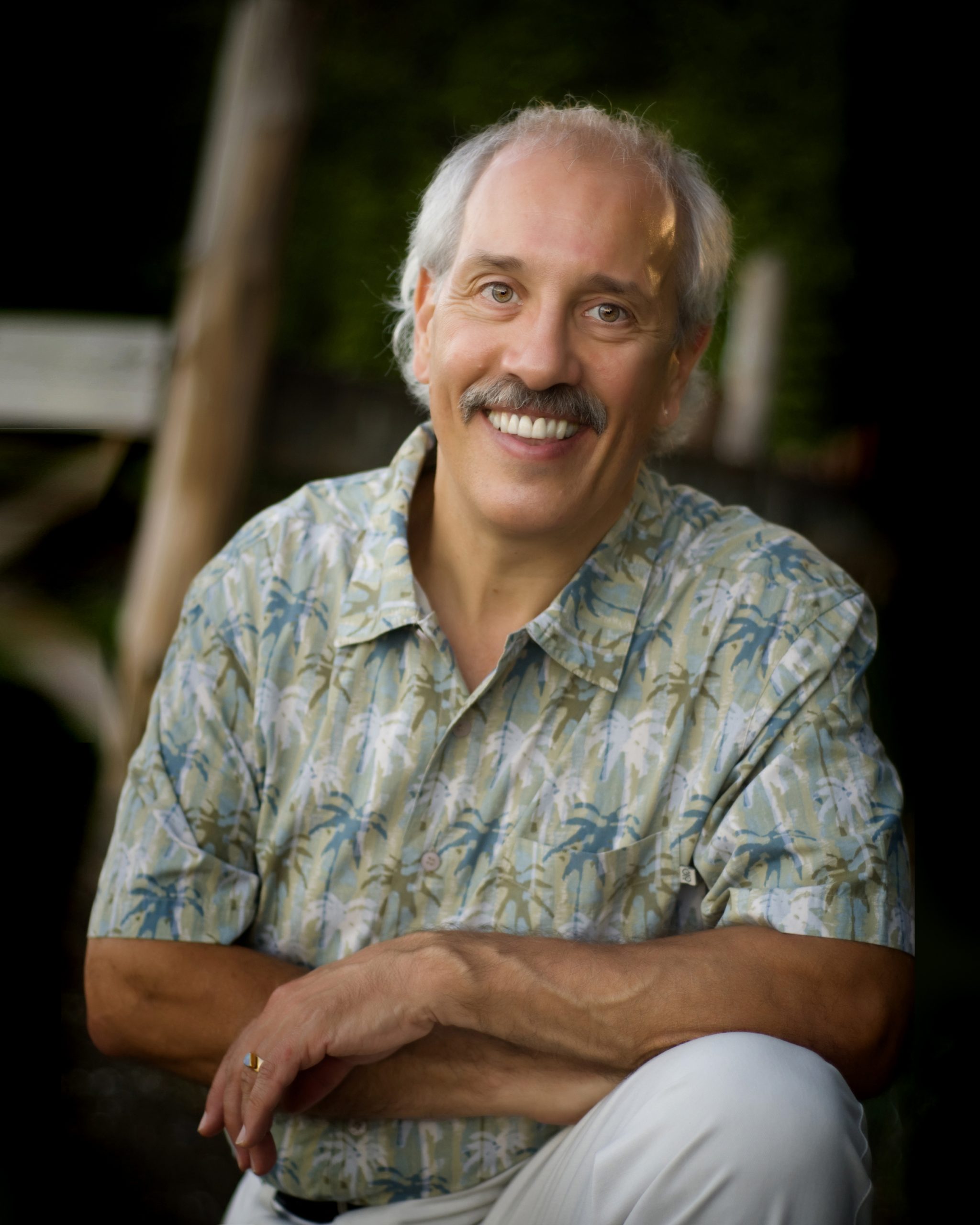 Biography
Scott was born is West Virginia, in 1951, while his father was at the University of West Virginia. When he was very young they moved to the small town of Greenfield, Ohio where he grew up with his younger brother and two younger sisters. He had a close Italian family with plenty of aunts, uncles and grandparents. Family vacations, gatherings and sports were favorites.
When he was 11 years old, Scott's father brought home a small grand piano. His parents believed it would be good for the girls. Scott surprised everyone when he was the one who ended up taking lessons, showing not only talent, but dedication.
In high school, Scott played electric Hammond organ in the Rock Group, The Dead End, with his fellow school mates. However, his solid study of music really began as he studied classical music with his piano teacher, Bob Anderson. He took three piano lessons a week and played for many hours in the evenings on a grand piano at a local church.
While attending Edward Lee McClain High School, Scott proved that music was not his only talent. He made the National Athletic Honor Society, received a National Keyboard Award, and was captain of his swim team. He broke a swimming record that has not been broken to this day. He graduated high school in 1969 with a swimming scholarship. He gave the scholarship up to pursue his love of music, and attend Ohio University, School of Music.
At the University, Scott learned to be disciplined about practicing piano, theory and composition. Music had become the center of his life and he knew that it would be the focus of his future. He took as many classes in music as he could and spent hours in practice studios. His love of music and the diversity of it were constant.
In May, during his first year at OU, four students were shot and killed during a protest, at Kent State University in Northern Ohio. School was closed early and students were sent home for the year. Scott decided to stay home, in Greenfield, for his second year and continue by attending classes via the Ohio University Extension program. This proved to be another stepping stone to his career as he continued lessons from Bob Anderson's teacher, Wallace Fisher. Wallace maintained a high standard of teaching Classical Music. Scott flourished classically and also joined a local Rock Group called, Brud. The group was well respected and preformed locally and in Columbus, Ohio. In Brud, he had his first Television exposure.
Scott returned to the University of Ohio in Athens, and finished his third and fourth years. During this time he would meet a teacher that would change his direction, set him on a new course and become the biggest influence on his music career. The teacher was Hamza El Din, who offered a class in the music of Africa.
Hamza was considered the father of modern Nubian Music, in northern Sudan.  He was a graduate of Shafizs Institute of Music. He studied Middle Eastern music and then went to Rome to study Western music. He played the Oud and the Tar. Hamza had immigrated to the US and lived as a recording and concert artist. He became a traveling professor at several Universities in the US and Japan. He taught Ethnomusicology. (The study of World Music) Hamza was just as impressed with Scott, as Scott was with him. Hamza recommended that Scott should travel out west to study Ethnomusicology at the University of Washington. Upon hearing that Scott had studied with Hamza, he was accepted immediately and his out of state tuition was waived. Scott spent the next two years learning the music of Thailand, Sudan, Korea, China, Romania and Ecuador. Scott remained friends with Hamza until Hamza's death, in 2006.
This new love of World Music would send him on a three month long research trip to the Andes Mountains of Ecuador. He would hike up into the mountains to record the villagers that played ancient music on the Hoja. The Hoja, is a leaf from a fruit tree that was blown into by curling it a certain way. It sounded like a reed or brass instrument. This trip was to document the use of the Andean folk instruments that mixed with Spanish and African influences. Scott later wrote his thesis for his master's degree with this information.
The result of blending World Music with his jazz and classical background resulted in a new style that was unique and hard to categorize. He began to compose his own pieces and perform locally on the weekends in the Seattle area.
While still in graduate school, he became co-owner of the still thriving vegetarian restaurant, called the Sunlight Café. He would be making bread at night after his gigs and serve up soup before he left. It would be a normal day, to be waiting tables, while making phone calls on his breaks to book his next performances.
Scott made a recording in 1978, to document his many musical influences. It was called Still Moments. This recording innocently proved to be the beginning of his recording career. Scott originally made this recording as a gift for friends and family but it unexpectedly and surprisingly, ended up on the record label Music is Medicine. It received a lot of radio exposure in Seattle, Los Angeles and other prominent west coast cities. Spirals made the record review section of Keyboard Magazine andBillboard Magazine said, "He is a first rate pianist with a big heart".
In the fall of 1978, the founders of the Record Label Windham Hill, Will Ackerman and Alex De Grassi, gave a concert at the University of Washington. Scott was asked to perform with his cellist, in-between the two guitarist sets. This opened another new door for Scott. The two saw Scott's uniqueness and talent and suggested that when they got their label off and running, that he might consider them as his label. Will insisted that they stay in touch with each other. The business card they gave to Scott said "Windham Hill Music and Builders". Will and Alex were carpenters as well as fine musicians.
Scott followed his first recording with a very jazzy recording called, Spirals. It used his influences of blues, Latin and jazz and features a special guest; renowned tenor saxophonist Carter Jefferson. There is a funny, but true story behind Carter playing on Scott's recording. Carter was in town for a performance and Scott went to talk with him. Since Scott was just out of college and didn't have much money, he asked him to play on his recording, and the pay would be a small fee and a homemade lasagna dinner made by Scott. Carter asked Scott to play for him, and when he heard him play he accepted the dinner and recorded with him on his album. The Seattle Times review of Spirals compared Scott with Keith Jarrett. All the reviews were favorable.
In the beginning, as George Winston came on to the music scene with Windham Hill, Scott was asked by Will Ackerman to let George open for a few of Scott's shows.  The two became friends and frequently toured together in George's VW Bug. Half the backseat was filled with George's Records and the other half with Scott's. After a time, George asked to produce Scott's 3rd recording. The idea was to have Scott continue with his influences of music and simplify it for their label. It featured Alex De Grassi who played with him on the album and it was tied together with George as the producer. Wind Dance was a hit. Scott and label mate, Michael Hedges signed on with Windham Hill on the very same day. Scott, George, Alex and Michael all enjoyed touring and playing together. It was the beginning of Scott's nineteen year career with Windham Hill.
Islands came out in 1984. It began a decade-long collaboration with flutist Dave Valentine, bassist Mark Egan and drummer Danny Gottlieb. It earned top slots in the radio and record charts making the number one spot on Jazz National Airplay. Scott had become known internationally as a composer and recording artist.
Eugene Friesen, a gifted cellist who plays with the Paul Winter Consort, joined Scott in 1986 on Reunion. On this recording Scott went back to his classical influences and produced this beautiful recording. The piece Shepherds' Song, was used in the movieChocolate War and Gwenlaise went on to be so popular that it was released on dozens of samplers that have been put out by Windham Hill, BMG and Sony.
In 1986, guitarist Van Manakas joined Scott on tour and in the recording studio. In 1987, She Describes Infinity was released. Vans fluid lyricism on the acoustic and electric guitar can be heard on this and the following six recordings.
The Breeze was a radio program from Minneapolis that was syndicated to fifty stations across the US. In 1988, Scott had an Adult Contemporary show called, Wind Dance, that he hosted each week for three hours. He played music, gave inside information on current artist, did interviews featuring artist in the New Age and Soft Fusion sound.
Scott returned to a more Latin-jazz style and with flutist, Dave Valentine and Van Manakas to make his seventh recording, Switchback. It hit the charts and was at the top so often, that by the end of the year; it became the number four album of the year on the New Horizons Top 50 CD's for 1989. He was playing sold out shows, nationally and internationally. By the year 1989, he had toured Germany, England, Japan and Chile.
Right at the time that Scott was at the top of his career, with extensive radio play, glowing reviews and just as he was about to embark on a forty city world tour, he was struck by a car while crossing Wilshire Blvd. in Los Angeles, California. He was lucky to be near UCLA Medical Center and went right into surgery. He had a severe traumatic brain injury. It was life threatening, required months of hospitalization and several more months of intensive rehabilitation. It would be another couple years for him to work out the memory loss, including the loss of many of his compositions. During this time, Scott and his wife Debi attended a dozen different state Brain Injury Conferences. Scott's story and his music was an inspiration to many others whose lives had been touched by brain injury. With much love and support from family, friends and fans, Scott amazed his neurologist with his miracle recovery.
Returning to the studio was an important step in healing and to show the world he was still the dedicated composer and recording artist he had been. It was just eighteen months before he began working to write new music and collaborating on a nature video of Mt. Rainer, with the acclaimed producer Peter Roberts. Not long after, Scott, with Van Manakas at his side, was touring Spain, Alaska and Hawaii.
Back to writing music and recording, Stained Glass Memories was made with Van Manakas, Dave Valentin, bassist Mark Egan and drummer Robbie Ameen. It was a joyous celebration of recovery. It was powerful evidence that Scott had regained mastery of his musical language.
Eventually the days of the Windham Hill label grew and changed. The label was sold to BMG and then to Sony. Many of the label mates took to their own directions and so did Scott.
Finding another recording label is not often easy, but then composing is not easy either. Scott, is hard working, dedicated and above all extremely talented. He released his eleventh recording in 1998, titled When Spirits Fly, with the Seattle based Miramar Label. When the label went chapter 11, Scott was taken aboard the well known distributor, Allegro-Music in Portland, Oregon and offered a contract with their new label, Alula Visions. He has since released, Emerald Pathway in 2002, and then re-released, When Spirits Fly. Both recording have received generous air play both at home and abroad.
Scott's most recent CD, Tides Between Us, is dedicated to the PugetSound area of Washington State. The reviews have been kind and it made it to number 15 on the charts of the New Age Reporter. Tides Between Us also was listed in the top 20 most listened to CD's in Japan. Friend and Solo pianist, George Winston, commented on the recording. He said, "It is great to hear these new beautiful compositions of Scott's".
Scott spends most of his time performing and recording, although he does not confine himself to that. He keeps busy with projects that include music for television advertisements, film documentaries and nature videos. He created the music for the David Maysles film, Islands, in which the Bulgarian environmental artist Christo surrounded a group of islands in Florida with pink fabric.
In the year 2000, Scott was awarded with Ohio University's Achievement in MusicAward. It is given once a year to someone who has made outstanding contributions to music.
It was a first for Scott when in 2006; he performed five of his pieces with the Teton Chamber Orchestra, in Idaho. He was praised as having an inherent and effortless ability to coax a variety of tones, and flawlessly performed with the orchestra. They said his natural musicianship allowed him to effectively collaborate with the orchestra, performing not just as a soloist with the orchestra, but melding the two units into a whole. The audience response to Scott's performance was very positive; his interaction with the audience from the stage was warm and heartfelt, at one point bringing members of the orchestra and the audience to tears while offering a humble note of thanks.
In 2010, Allegro- Music released a Blue-Ray DVD, Edge of the Earth, Corner of the Sky. It is the work of the award winning photographer, Art Wolfe. It showcases 300 of his most amazing photographs, taken throughout the world. It is a high definition digital art show and the imagery is accompanied by the beautiful music of Scott's CD Emerald Pathway.
Also in 2010, the world's largest printed music publisher, Hal Leonard, put out aPiano Solos for All Occasions Songbook.Scott's composition, Purple Mountain, was included in this book. He is in good company since this book also included artist such as, John Lennon, Beethoven, and Duke Ellington.
This past summer, when Scott wasn't giving lessons, (yes, he loves to have a few piano students), in concert, or kayaking, he was in the studio. Since most of the Windham Hill catalog is no longer available, Scott was re-recording the pieces he is often asked for. What a joy it was for him to re-record his most loved pieces like, Gwenlaise, Fawn and Angel Steps. He also did a second recording, featuring jazz, Blues and Barrelhouse pieces he had has so much fun playing in concert for many years.
This fall, a film has been in the production for a possible release on PBS for their show, Biography. A crew from Vashon Island, near Seattle, has been filming at his home, in concert and in his studio.
Scott continues to live in the Northwest, content with his musician's life of touring and composing, his family and surrounded with the beauty the area has to offer.
---
http://www.youtube.com/watch?v=doOev0TDXxk

http://www.youtube.com/watch?v=iCuibpRmX6Y&list=PLA999549FB9C3F527

http://www.youtube.com/watch?v=6ixU_k7Wdco&list=PLH7lIxVjbf782A5lo4pFnKLRDssoIiHD4