Rebecca Holden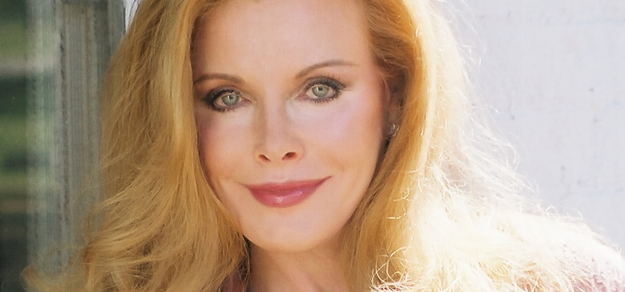 Biography
As a singer, actress, and entertainer, Rebecca Holden's appearances have amassed a fan club with members from around the globe.
Television viewers all over the world are familiar with Rebecca through her stint as the computer whiz (and KITT's mechanic) on the NBC series "Knight Rider", which still appears in syndication in most major markets throughout the U.S. and in over 200 foreign countries. She attained added recognizability from her role as the diabolical Elena on ABC's "General Hospital" and from countless guest starring roles on such prime time shows as "Magnum P.I.", "Love Boat", "Three's Company", "Taxi", "Night Court", "Mike Hammer", "Remington Steele", "Matt Houston", "Barney Miller", and many others. Her movies have appeared at the Cannes Film Festival, as well as festivals in Manila and Japan.
Her charitable work includes Toys for Tots, Feed the Children, Special Olympics, the Music in the Schools program, and Habitat for Humanity.  She has served on the board for "Operation California", participating in airlifts of medical aid to Ethiopia, as well as performing for "Live Aid," and "Farm Aid" at Texas Stadium along with Willie Nelson. Appointed as the honorary Mayor of Universal City by MCA Chairman, Lew Wasserman, Rebecca served as goodwill ambassador to local and foreign dignitaries.  Most recent events include the American Legion Event for Families of Military Support, US Super Nationals Chess Tournament, Virginia Governor Inaugural Prayer Breakfast, the Kids of Honor Gala, and she was the featured performer for the Celebrity Center Christmas Celebration and an added attraction in the Tribute Concert for Luther Vandross.  In June, 2014 Rebecca performed at the United Nations Humanitarian Summit and her new CD recording of "Dreams Come True" was chosen as the theme song for "We Care For Humanity".
Musically, Rebecca has performed in a diversity of styles. Classically trained as a voice major and piano minor in college, she has sung opera, and performed the lead roles in musical theater such as "Oliver" and "Damn Yankees".  She recorded a country album for Curb records, with her music videos appearing on TNN and CMT.  She also recorded both a country and gospel album for BMG Records in Switzerland and toured internationally all over Europe and the Far East, even performing for the King of Malaysia.  She had the honor of being the featured performer with the United States Air Force Band at a memorial for WWll veterans for which the President of the United States was the guest speaker.  During Rebecca's service as president of the Music City Christian Fellowship, she performed as singer and mistress of ceremonies for the Christian Country Music Awards and the Sunday gospel shows at the Grand Ole Opry.
First discovered by a top talent agent while continuing her voice studies in NY, she became one of New York's top models, landing the prestigious title of The Breck Girl, which led to magazine covers and countless other national commercials such as Ivory Soap, Dentyne, Kellogg's, Gillette, Arrid, Chevrolet, and ultimately a major television and film career in Los Angeles.
She serves as Mistress of Ceremonies, Performer and Speaker for many Charitable, Corporate, Church, Military, Sports & Political Events, and is in demand for her rendition of the National Anthem.  Rebecca has just been named in 2014, the Spokesperson for Airline Ambassadors, which helps orphans and vulnerable children worldwide by advocating child protection and human trafficking awareness.