Sai Ghose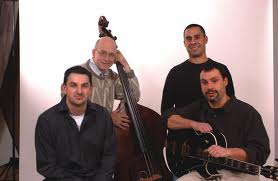 Biography
Sai Ghose is an award-winning composer who has been recognized with a 2004 Artist Grant in Music Composition from the Massachusetts Cultural Council and a gold medal for "Music in a Short Film" at the 2004 Park City Music Festival. In addition to his work as a composer, he's an accomplished jazz pianist and bandleader.
He  has established himself as an imaginative, innovative composer and sensitive,  soulful player. His three CDs on Summit Records reflect an edgy blend of straight-ahead jazz, funk, and latin.
Sai's music has been described as "infectious…hard driving…complex yet accessible… sweet and passionate…cool but deeply swinging."   All his releases have received widespread national  airplay and excellent reviews. The Sai Ghose Trio/Quartet has earned particular recognition for its live performances. The band, with its undeniable chemistry, takes its audience on a sonic adventure.
Sai Ghose hails from Shaker Heights, OH. He received a B.A. from Indiana University and a M.Ed. from Lesley College in Cambridge, MA. He has studied with many great players including Jerry Bergonzi and Larry Goldings.