Anthony Wilson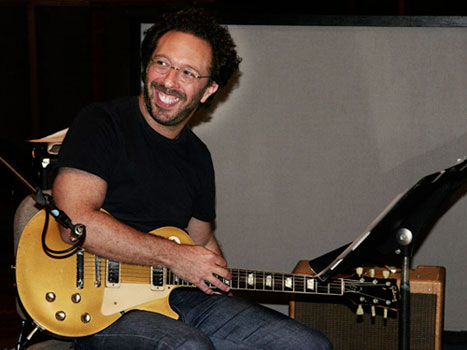 Biography
Anthony Wilson is one of the leading musicians of his generation. Known for his imagination, maturity, and depth, the esteemed guitarist/composer/arranger has recorded ten solo albums since his Grammy-nominated debut album was released in 1997. Wilson's fourth album with his acclaimed nonet, 2006's "Power of Nine," was included in The New Yorker's roundup of the year's top ten jazz albums, and 2009's "Jack of Hearts" included Larry Goldings and legendary drummer Jim Keltner in a set of music that approached the classic guitar-organ-drums format with a new spirit of play and possibility.
In 2011, Anthony Wilson released two celebrated albums. "Campo Belo," a collection of original songs recorded in São Paulo, pairs him with three of Brazil's most extraordinary young musicians (pianist André Mehmari, drummer Edu Ribeiro, and bassist Guto Wirtti); and "Seasons: Live at the Metropolitan Museum of Art" (a CD/DVD set) documents—in audio and video—the premiere of new music composed by Wilson for a group that includes guitarists Julian Lage, Chico Pinheiro, and Steve Cardenas playing masterpiece instruments built by luthier John Monteleone. "Seasons" was Stereophile Magazine's "Recording of the Month" in April 2012. Downbeat Magazine's "Editor's Pick" review exclaimed: "Nothing short of gorgeous…as close to understanding the marriage of artist and instrument as we'll get in this lifetime."
A sensitive, gifted accompanist as well as a formidable soloist, Anthony Wilson has been an indispensable member of Diana Krall's quartet since he joined her in 2001 for a series of performances at Paris' Olympia Theater that were collected on the Grammy-winning "Live In Paris," widely considered a classic. Recordings and performances during the past decade with Paul McCartney, Leon Russell, Willie Nelson, Mose Allison, Bobby Hutcherson, Barbra Streisand, Madeleine Peyroux, and Aaron Neville have continued to spotlight Wilson's growing artistry, musical flexibility, and improvisational authority. Producers Tommy LiPuma, Joe Henry, and Jesse Harris frequently call on Wilson for his unique contributions to their projects; and Bennie Wallace, Larry Goldings, the late Harold Land, the Clayton-Hamilton Jazz Orchestra, and his father, renowned composer/arranger Gerald Wilson, are just a few of the revered artists with whom the guitarist has forged fruitful, lasting partnerships. Wilson's considerable talents as a "triple-threat" guitarist/composer/arranger regularly land him at the top levels of all three of those categories in Downbeat Magazine's International Critics' poll.
Anthony Wilson's abiding connection to jazz tradition and his equal willingness to take risks are the hallmarks of his skillful, inspired work as a composer and arranger. Wilson won the Thelonious Monk Institute International Composers' Competition in 1995, and since then he has received numerous commissions for small- and large-scale original works. His orchestral composition "Virgo" was commissioned by the LA Philharmonic Association and premiered at the Hollywood Bowl in 2008; and in 2009 his orchestral arrangement of Ivan Lins' "Love Dance" was featured on Barbra Streisand's #1-charting recording "Love is the Answer."
Already a widely respected artist—"with a voice and manner of his own…and a promise that stretches out to the horizon" (Gary Giddins)—Anthony Wilson now stands poised and ready to move even further to the forefront of the music world, and to take his place alongside the most admired musicians of this era.
---