B Sharp Jazz Quartet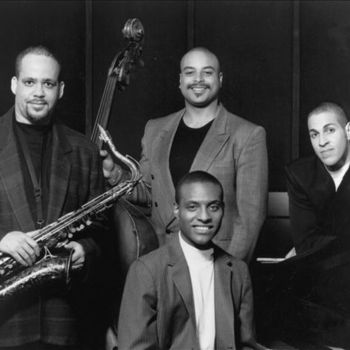 Biography
B Sharp Jazz Quartet is on a mission: to rescue jazz from it's museum piece rep. Creating a world where the energy and daring of creative improvisation can share the stage (and listeners' record collections) with everything from hip hop to alternative rock. A challenge, for sure, even for a band that has been hailed as one of the brightest hopes for the future of acoustic jazz. But after three years of mixing and measuring the elements that go into its winning straight-ahead formula, B Sharp is breaking through to new levels of artistry and popular appeal.
Their fourth and latest album, Tha Go 'Round marks a high point in the band's development, the culmination of a several-years-long gestation process that included iron man-like performance schedules. According to drummer, composer and founder Herb Graham, Jr. "It's a snapshot of where we are right now." And the picture is clear: the playing is sharper and the members are "willing to be more expressive," Graham says, "speaking in the voice they have developed over the course of the past several releases."
Since its inception, B Sharp Jazz Quartet has managed a fairly difficult trick: infusing straight-ahead jazz with the energy and accessibility of contemporary funk and soul, while maintaining its firm commitment to the lineage that runs back through Miles and Trane. "Most people's first exposure to jazz probably came at a wedding, where the band was playing 'Satin Doll,'" says Graham. "People don't equate the energy and interaction of a Rage Against the Machine or A Tribe Called Quest with a jazz band. But if you listen to the classic jazz records, you can hear all of that and more. If Charlie Parker were here today, he wouldn't be trying to play the music he played forty years ago. We're musicians, not museum curators. If that bothers some people, so be it."
Now, after several years of work on the road and in the studio cultivating a stunningly diverse audience (from hard-core jazz heads to younger modern rockers), B Sharp has moved from the underground to the mainstream. This summer, the band played its first European tour, including Holland's world-famous North Sea Jazz Festival, the Molde Jazz Festival in Norway, The International Istanbul Jazz Festival, and the Umbria and Pescara jazz fests in Italy. These dates come at a time when the quartet is being booked into major domestic jazz festivals as well – the Monterey Jazz Festival, the San Jose Jazz Festival and the Detroit Montreux Jazz Festival, to name a few.
Nothing, however, came easy. B Sharp has paid its dues over the past few years with an indie-rock-styled road schedule, playing jazz clubs, rock clubs, colleges and more. "This band is a working band," Graham says with more than a hint of pride. "We've made a conscious effort to be out on the road. Sometimes that means playing to a jazz audience and sometimes it means playing to a guy with orange hair and a ring in his eyebrow – and frankly, I like both." Other groups like Charlie Hunter and Medeski Martin & Wood have shown the value of a guerrilla approach to touring. While the publicity advantages are obvious, it also helps bring a working outfit's sound into focus.
That fact is clear on Tha Go 'Round. For while those familiar with the band will hear many of its trademarks: Graham's explosive rhythms, bassist Osama Afifi's driving lines, pianist/keyboardist Rodney Lee's inertial figures, sax player Randall Willis' bobbing and weaving phrases – there also are more than a few surprises. Certainly there is a fluidity, a confidence, a muscularity to the playing that surpasses the group's previous work. There is also a density to the soundscapes that at times suggest the spacious obliqueness of Miles Davis' "Nefertiti" era quintet.
Graham's compositional concept for the album was that of a series of outlines: songs that laid material out, while offering players the option of taking it in any number of different directions. "A lot less was spelled out on this record," says Graham. "That can be risky, but recording the album was an exhilarating experience. All the players left the sessions completely spent – not so much physically, but emotionally."
Another difference on this record is the conspicuous absence of any electric keyboards. Says Graham, "The (Hammond) B3 and Rhodes are still part of our sound, and we'll come back to them again, but I wanted to get down to the essentials. Rodney has so many moods that he can create with just the piano. Sometimes limiting yourself can actually spur creativity."
In 1994, B Sharp Jazz Quartet exploded on the scene with its self-titled debut album. Jazziz called it "one of the most distinctive group sounds in jazz today," and the Los Angeles Times hailed the group as "the best of Los Angeles' young post-bop bands." The Quartet's next two albums, Mirage and Searching for the One, only served to enhance the growing buzz around the young band. The Miami New Times called B Sharp "one of the finest combos carrying jazz into the next century," and JazzTimes advised readers to "take this one home."
The Quartet's unique sound reflects the eclectic influences of its members. Each has legit straight-ahead credentials, but they all draw from experiences in other genres, from funk and R&B to alternative rock and even thrash metal.
Drummer Herb Graham, Jr. has performed with a wealth of artists including Freddie Hubbard, Watts Prophets, James Moody, Donald Harrison, Carmen Bradford, Martika, Big Jay McNeely and The Supremes. His recording credits include artists as diverse as Don Cherry – whom he joined on the jazz/hip-hop recording, Red, Hot and Cool – and rap band Boo Yah Tribe. He is also an accomplished producer, having produced all of B Sharp's releases as well as records for artists as diverse as poet Kamau Daáood and the rock band Strange Fruit.
Of Randall Willis Saxophone Journal says: "[He is] a good example of a saxophonist who has managed to find his own voice in this age of saxophone clones." Willis developed his multifaceted style listening to players like Wayne Shorter, Jackie McLean and Charlie Parker. His performance/touring credits include gigs with Ray Charles, Elvin Jones, Stevie Wonder, Gladys Knight, The Pharcyde, Freestyle Fellowship and Billy Higgins, as well as recording stints with jazz giants like Gerald Wilson and Jimmy Cleveland.
Keyboardist Rodney Lee's list of accomplishments includes performances with icons such as Freddie Hubbard and Mel Torme as well as numerous R&B acts. Winner of the Wichita Jazz Festival Outstanding Jazz Soloist Award, he currently produces a number of jazz and acid jazz acts and is a founding member of the acid jazz group The Solar System on the Sonic Images label.
Influenced by such jazz and funk giants as Ron Carter, Stanley Clarke and Verdine White, bassist Osama Afifi cultivated his technique performing with a wide range of acts including R&B pioneers The Cadillacs, rock singer Maria McKee and jazz saxophonist Gary Herbig. "The main difference between the Quartet and other bands I've been in is spontaneity," says Afifi. "Sometimes we get on stage and just start playing with nothing worked out beforehand. I've never been in a situation like that. It can be scary, but it's exciting."