John Ericson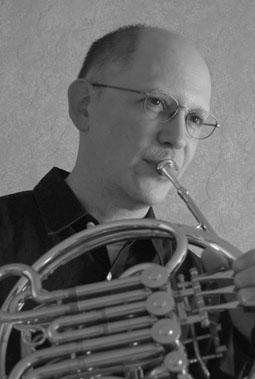 Biography
One of the most visible hornists today, John Ericson has wide-ranging experience as an orchestral player, soloist, and teacher. Co-founder of the online magazine Horn Matters, Ericson began his professional career with serving for six seasons as Third Horn in the Nashville Symphony. From there, he turned to full time teaching; first at the Crane School of Music (SUNY Potsdam) where he launched one of the first large horn websites Horn Articles Online. Since 2001 he has served on the faculty at Arizona State University, where he is Brass Area Coordinator. He has also performed with groups including the Indianapolis Symphony, the Phoenix Symphony, and the Rochester Philharmonic.
His two solo CDs on the Summit label received critical acclaim: The Horn Call hailed Les Adeiux for "Fantastic playing…. The level of musicality, nuance and artistry is not to be missed" and called Canto a "Terrific collaboration between horn and piano." In addition, Ericson has made recordings with The Potsdam Brass Quintet and The Nashville Symphony, performed on the Grammy Award nominated Fourth World of Native American flutist R. Carlos Nakai, and was a frequent recording artist in the studios in Nashville.
Besides teaching at Arizona State University, in recent years Ericson has served as artist faculty at the Interlochen Center for the Arts and the Brevard Music Center, where he has worked with hundreds of talented horn students from around the world. His publications are a reflection of his teaching. With his additional strong interest in all instruments of the middle brass, Ericson has print and online publications on topics as diverse as the mellophone and the Wagner tuba.
A recognized authority on the history of the horn in the nineteenth century, Ericson is a recipient of the Harold Meek Memorial Award from the International Horn Society. He has performed and presented sessions at seven international horn symposiums and numerous regional events. A native of Emporia, Kansas, Ericson currently resides in Tempe, Arizona with his wife and two children.
---