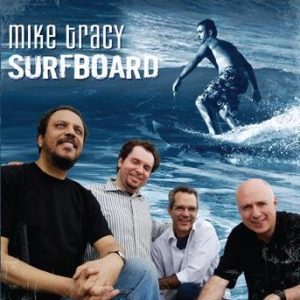 Catalog number: 593Failed to connect to MySQL: Access denied for user 'summitrecords'@'localhost' (using password: YES)0 results
"Surfboard" is saxophonist Mike Tracy's sixth recording as a leader and it is a particularly special project. Having been to Brazil many times, he has grown to love the spirit of the music, with its different rhythms and expressive melodies. "Surfboard" is a collection of infrequently played (at least in the United States) Brazilian standards and originals with an all Brazilian rhythm section. Tracy and his bandmates expose the listener to a variety of styles that one rarely encounters in the U.S.
Mike Tracy was born and raised in Louisville, starting on the saxophone when he was eight. He studied classical saxophone at the University of Louisville and has not only become a notable musician but an influential educator. He is the Director of the Jamey Aebersold Jazz Studies Program at the University of Louisville School of Music. He continues to teach in dozens of countries and has established a jazz program at the Music Academy in Estonia.
---
If you are interested in purchasing an individual track from this cd, visit

---