Cam Newton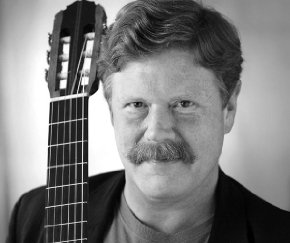 Biography
Cam Newton's style of writing and playing is truly original, even in his early musical beginnings. Laced with American Jazz, world folk traditions, European classical and Eastern influences, Cam's compositions reflect his appreciation for music of cultures all over the world.
Cam's creativity is inspired by his love of nature and the wilderness. Resonating from his 6 and 12 string guitars are images of rushing water, sunlight and celebration. His imaginative arrangements and use of unique combinations of instruments have won him critical acclaim.  Cam's choice of lyrical instrumentals reveal the heart of a romantic and his tunes include lyrics that are full of wit and have a sense of sheer joy in living.
He has been commissioned to write for film, television, radio and ballet; and has collaborated with award winning author Barry Lopez. He was commissioned by NPR affiliate Oregon Public Broadcasting to compose and record the theme for their popular world music show, "Global Village," in the 1980's.
Both of Cam's international releases, "The Motive Behind the Smile" and "Welcome Aliens," were praised by RECORD WORLD as "quite extraordinary". BILLBOARD selected "Welcome Aliens" as a Top Album Pick, and called Cam's music "complex and inventive." DOWN BEAT awarded "Welcome Aliens" no fewer than 4 1/2 stars of a maximum 5 stars!
On the liner notes for his album "First Flight," legendary Jazz guitarist Charlie Byrd recognized Cam Newton, along with John McLaughlin, Larry Coryell, Pat Metheny and Ralph Towner as one of the best of a new generation of Jazz-influenced guitarists.
Cam has toured throughout the United States, Mexico and Europe, where he lived and performed for several years. He has toured and performed with a stellar roster of artists, including David Sanborn, Stephane Grappelli, Miles Davis, B.B. King, Manhattan Transfer, Joan Baez, David Crosby, George Winston, Hoyt Axton, J.J. Cale, Joan Armatrading, Richie Havens, Grover Washington, Jr., Jimmy Buffet, Richard Thompson, and Spyro Gyra.
Cam is a native Oregonian, he attended the University of Oregon School of Music and received his B.S. degree from Portland State University. After completing advanced studies at Willamette University in Salem, Oregon, Cam successfully earned national certification and became a Registered Music Therapist. His work with the elderly as a Music Therapist offers him a way of giving back to those who need the most, on their own terms, in a therapeutic environment. Cam Newton's CD of original music called "Short Films" was released on Summit Records in November 2000.  It features contributions from renowned producer Billy Oskay, violinist Rob Thomas, reed man Michael Bard and others. Cam Newton, and his wife Christine, make their home in Portland, Oregon.
---