Capella Istropolitana of Slovakia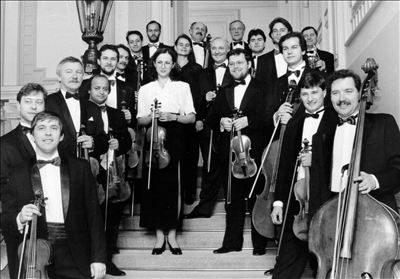 Biography
The Capella Istropolitana is a Bratislava-based chamber orchestra whose activity in the recording studio places it among the most recorded ensembles of the late 20th and early 21st centuries. Buyers browsing the bins of a record store or shopping online will find this seemingly ubiquitous ensemble on more than 250 CD releases. Actually, by 2008 the Capella Istropolitana had made over 90 recordings, but many of the performances appear on reissues, often in theme-oriented albums or series, like Cinema Classics (12 volumes), Chill with Bach, Chill with Beethoven, Best of Opera, and many others. But the ensemble is no mere peddler of popular or generic music for quick sale; they have been involved in highly successful Haydn and Mozart projects, and have recorded the Bach Brandenburg Concertos, the five Beethoven piano concertos, and large chunks of the output of Vivaldi, Handel, and others. Their repertory reaches well beyond the Baroque and Classical periods, both on recordings and in concert, taking in works by Brahms, Dvorák, Elgar, Britten, Respighi, Prokofiev, Bartók, Stravinsky, and Barber. Most of their recordings have been issued on the Naxos label, but others have appeared on Erato, Brilliant Classics, Bridge, and Claves.
Established in 1983 by members of the Slovak Philharmonic Orchestra, the Capella Istropolitana has performed under various conductors over the years and has regularly toured Europe, North America, the Far East, New Zealand, and Israel. The ensemble has never had a music director or chief conductor. In its early years it consisted of about 15 players, but eventually augmented its membership to accommodate performances of larger works, like the Beethoven symphonies.
The group's first Bach recordings appeared in the late '80s with general acclaim, and by the early '90s the group had achieved recognition both at home and abroad: in 1991 the Bratislava City Council honored the ensemble with a decree naming it Chamber Orchestra of the City of Bratislava; that same year Naxos began issuing the first CD's in the group's Haydn and Mozart symphony projects.
Throughout the 1990's and the first decade of the new century, the Capella Istropolitana remained extremely active in the recording studio, achieving great popularity with two platinum discs. The group also maintained a busy schedule of concerts, touring the U.S., Canada, and almost every European country. Its 2007 schedule, for instance, included numerous concerts in Germany, Austria, the Czech Republic, Slovakia, Croatia, France, and Switzerland.