Carl Lenthe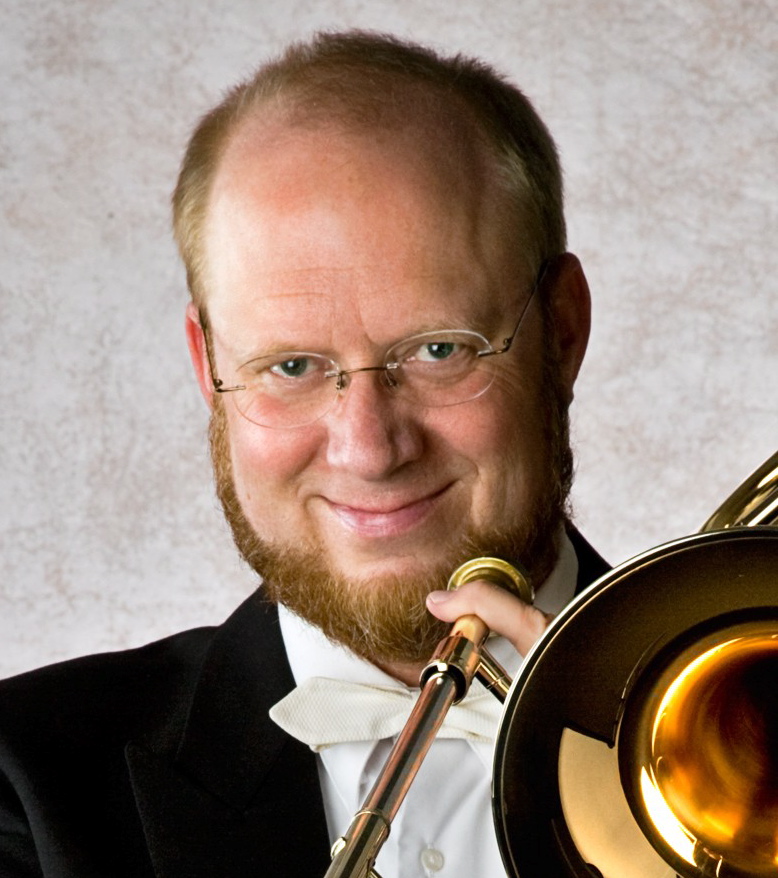 Biography
Carl Lenthe, Professor of Music at Indiana University's Jacobs School of Music in Bloomington, was born into a musical family in 1956 and grew up in the Delaware Valley in Pennsylvania. His love of good music, inspired by concert bands and recordings of the great orchestras, was nurtured by both the school and church music programs in his hometown of Springfield. Studies at the Curtis Institute of Music led him to a career in music, which commenced at the age of 20 with his engagement as principal-trombonist under Wolfgang Sawallisch at the Bavarian State Opera in Munich, Germany. His 17-year tenure there, during which he was named "Bavarian Chamber Virtuoso" by the Ministry of Culture, was followed by his appointment as principal-trombonist with the Bamberg Symphony, where he also served on that orchestra's executive committee.
As a trombone soloist, Lenthe won first prize with special distinction at the international music competition "Prague Spring" and has appeared as soloist with the Leipzig Gewandhaus Orchestra, Prague Symphony and the Bamberg Symphony. His solo CD "The Audition Window" has met with critical acclaim, contains some of the most standard contest and audition pieces for aspiring trombonists, and is coupled with a pilot project in music distance learning, the LentheLessons. As Principal-Euphonium player in the Hal Leonard Recording Band, he was called upon to record the new solo CDs for the re-release of H. Voxman's venerable "Concert and Contest Collection" – for both euphonium and trombone.
Extensive chamber music and recital activities have not only kept him well-versed in the literature for Brass Quintet, Brass Ensemble, Trombone Quartet and Solo Trombone but also led him to arrange and publish music for these combinations. He is a regular performing member of Summit Brass, serving also on their Artist Board. His journalistic efforts have met with encouraging resonance in professional circles. In addition to his activities in the brass world, he also served as a mediocre but enthusiastic church organist and choir director for the Lutheran Chapel of the US Military in Bamberg, Germany.
As an orchestral trombonist Carl Lenthe has been a frequent guest with the Berlin Philharmonic, Munich Philharmonic, Maggio Musicale in Florence and many other major orchestras in Europe. His expertise on the Wagnerian bass trumpet kept him in regular demand in many European opera houses. In the US, he has performed with the Boston Symphony, Chicago Symphony, Indianapolis Symphony, Minnesota Orchestra, New York Philharmonic, Philadelphia Orchestra and others.
Having received high quality instruction from the start, he feels a commitment to teaching and, beyond his regular studio teaching, enjoys working with a wide variety of pupils both on an individual basis as well as in workshops, clinics and master classes in southern Germany, Austria, northern Italy, Brazil and in the USA. Through his pedagogical and performance reputation he is frequently called upon to serve as juror for instrumental competitions at both regional and international levels.
Also active as an instrument design consultant with the B&S Company of Germany, Lenthe is working with that company on a new line of highest quality professional trombones, the Meistersinger Series.
Carl lives in Bloomington with his wife Martha, a teacher and life-long learner. Together, they enjoy proudly following the paths and passions of their four children.
---