Gary Tole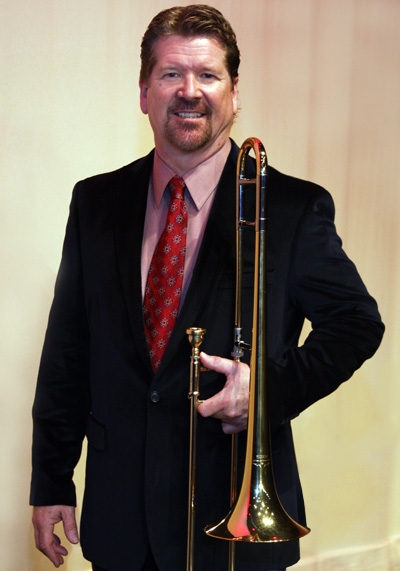 Biography
Destiny explains one part of Gary Tole's stellar career as a trombonist, band-leader and educator. In a family of dedicated musicians, his calling was more or less a fait accompli. Destiny, however, doesn't account for any musician's continued success in a very challenging and capricious business. Gary is certain his good fortune can be credited to the humble philosophy held and taught by his parents: in short, "Keep your eye on the ball." Since he is a baseball fanatic as well as an A-list musician, the advice was easily understood.
Gary was born and raised in Pittsburgh, PA. After attending Duquesne Auniversity, Gary Traveled on the road for four years playing first trombone with the Glenn Miller Orchestra directed by Jimmy Henderson. In 1978, Tole made his permanent residence in Souther California. Shortly after arriving in Los Angeles, Gary was hired to play first trombone with the Harry James Orchestra and performed on Harry's last recording. Another great opportunity opened and Gary was now performing with the Les Brown band of Renown and recording television shows with legendary entertainer Bob Hope. On stage as well as recording, Gary's smooth but dynamic style placed him in constant demand with such stars as Ray Charles, Frank Sinatra, Ella Fitzgerald, Sarah Vaughn, Rosemary Clooney, Johnny Mathis, Bernadette Peters, Kenny Rogers, Rita Moreno, Meilissa Manchester, James Ingram, Peter Cetera, and Phil Collins. He has been seen and heard on numerous television programs backing great performers such as Diana Ross, Sammy Davis, Pia Zadora, Sheena Easton, Peabo Bryson, The Pointer Sisters, and many more. Gary has also spent numerous hours in the recording studios doing record sessions, TV film, jingles, and major motion picture sound tracks.
Gary has had a long and illustrious career in the big band world including performances with the orchestras of Jimmy Dorsey, Tommy Dorsey, Ray McKinley, Tex Beneke, Stan Kenton, Ray Anthony, Benny Goodman, Xavier Cugat, Woody Herman, Louis Bellson, Bill Holman, Bob Florence, Buddy Childers and many more.
In addition to trombone, Gary also plays bass trombone and euphonium. As an active clinician for Yamaha, Gary participates in music education programs as a judge for jazz festivals, band and orchestra festivals, private teaching of the low brass instruments, and has traveled throughout the country conducting various clinics.
Having a sharp eye for perfection, in 1984, Gary started his own entertainment production company Gary Tole Music Productions, Inc. From weddings of Hollywood 's elite to fund raisers at LA's top hotels to corporate events internationally, Gary Tole has done it all. Gary has accomplished what seems economically and socially impossible in the new century also: his own sixteen piece ensemble, Legends of Swing, has become one of the world's most sought after Big Bands, in heavy demand nationally and internationally for its white-hot tributes to icons like Glenn Miller, Stan Kenton, The Dorsey Brothers and Benny Goodman.
In 2007, Legends of Swing released its second recording, the multiple-Grammy nominated One Kettle For Count (Summit Records). Grammy nominated award categories included Best Large Jazz Ensemble Album, Best Instrumental Composition, and Best Instrumental Arrangement Accompanying Vocalist(s).
---