Dana Landry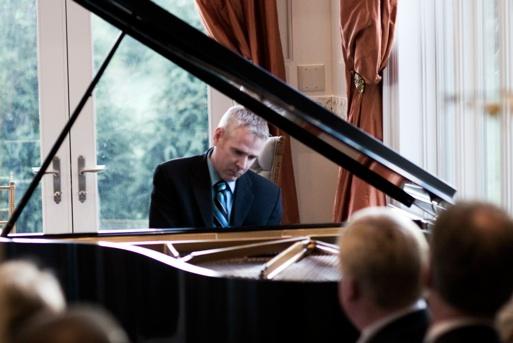 Biography
Dana Landry is Director of Jazz Studies and Professor of Music at the University of Northern Colorado, where he directs UNC Jazz Lab Band I and teaches graduate courses and studio jazz piano. In addition to directing the Jazz Studies Program, he is the Artistic Director of the UNC/Greeley Jazz Festival and the Director of UNC Jazz Press.
Under Landry's direction, UNC Jazz Lab Band I has received two Down Beat Student Music Awards as "Best College Big Band. In the summer of 2010, Lab I was invited to tour Romania. The band has also performed at IAJE conferences in Long Beach and New York. The Northern Colorado Voices was named a regional finalist in the Harmony Sweepstakes.
Landry has performed with jazz artists including Milt Jackson, Bela Fleck, Dick Oatts, Ingrid Jensen, Ricky Woodard, Jeff Coffin, Eddie Daniels, Rufus Reid, Clay Jenkins, Bill Watrous, Billy Pierce, Lew Tabackin, Alan Dawson, Tony Reedus, Ricky Woodard, David Liebman, Marvin Stamm, Slide Hampton, and others. He has performed throughout the U.S. and in Europe and Australia, and can be heard frequently in a trio with his UNC colleagues Erik Applegate (bass) and Jim White (drums). Dana also co-leads the Colorado Jazz Orchestra.
His first release as a leader, Journey Home, was nominated for a Grammy Award. The CD, which features vibist Gary Burton, received critical acclaim and reached #20 on the Jazz Week radio airplay chart. Landry can also be heard on Don Aliquo's Another Reply and Jazz Folk (which features bassist Rufus Reid). Forthcoming releases include Memphis Skyline with bassist Erik Applegate and drummer Jim White, and a quartet project with Aliquo, Applegate, and White.
Landry is also an active classical pianist and appears regularly with the Colorado Symphony Orchestra. He has also performed with the Nashville Symphony, the Tennessee Philharmonic, and the Stones River Chamber Players.
Landry has directed All-State, district, and honors jazz bands in Colorado, Wyoming, and Tennessee, and conducted the Washington All-State Jazz Choir. He has presented workshops and master classes at colleges and universities throughout the country and has adjudicated high school and college jazz ensembles at festivals in Montana, Oregon, Wyoming, Colorado, Kansas, Virginia, Alabama, and Tennessee. He served as the director of the Britt Institute Jazz Workshop in Oregon and on the faculties of the Yellowstone Jazz Camp in Wyoming and the Rocky Mountain Vocal Jazz Camp in Colorado. Landry currently is the director of the UNC Jazz Camp.
Prior to joining UNC, Landry was Coordinator of Jazz Studies at Middle Tennessee State University. He was the founding director of the Middle Tennessee Jazz Orchestra, a professional big band in residence at MTSU. Landry established the MTSU Jazz Artist Series and was instrumental in the formation of the Main Street Jazz Festival, one of the largest jazz festivals in the mid-south.
Landry holds a Bachelor of Music Degree from Berklee College of Music and a Master of Music Degree from the University of Northern Colorado.
---