Ted Kooshian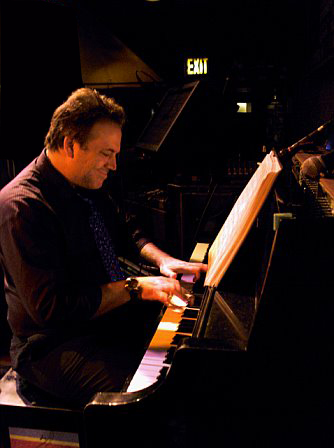 Biography
Born in San Jose, California, Ted grew up in the Bay Area and started playing piano in the 2nd grade. His love of jazz music began in the 7th grade when his music teacher played him a record of Oscar Peterson.
He attended San Jose State College from 1979 through 1982 as a jazz performance music major. While in his twenties he traveled to the Far East, the South Pacific, Africa, the Mediterranean, the Caribbean, and South America working as a pianist on cruise ships.
Ted moved to New York City in 1987, and since then has been working as a freelance musician, playing jazz gigs, Broadway shows, several tours, and teaching.
Over the years, Ted has worked with Aretha Franklin, Chuck Berry, Marvin Hamlisch,Sarah Brightman, Blood, Sweat, and Tears, and Il Divo. A sampling of the Broadway Show work he's done includes Mamma Mia, The Lion King, Aida, Come Fly Away, Dirty Rotten Scoundrels, and Spamalot. He has performed at the Detroit Jazz Festival, theSyracuse Jazz Festival, the Sun Valley Jazz Festival, and the Clifford Brown Jazz Festival, as well as festivals in Germany, Estonia, Lithuania, and Latvia.
In 2007 he finished the BA degree in music he began in San Jose. In addition to leading his own groups and projects, Ted is a member of several bands that play frequently in New York.