Hora Decima Brass Ensemble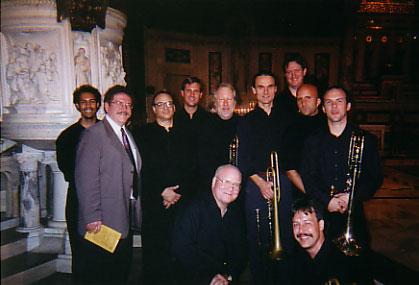 Biography
The Hora Decima Brass Ensemble is dedicated to the presentation,
promotion, and preservation of music for brass instruments. In today's
world of the internet, MTV, videocassettes, and synthesizers, accoustic
instrument groups face stiff competition. While there are many smaller
brass groups performing today, the appearance of a large brass ensemble
is a rare event. Sometimes symphony orchestras will feature their brass
sections in one or two selections in an orchestra concert, but full
concert programs by large brass groups are seldom heard outside of
college music departments. The Hora Decima Brass Ensemble is the only
large brass ensemble of professional players in the New York City area
that plays together on a regular basis.
Founded thirteen years ago by trombonist David Chamberlain, the
HDBE began as a workshop experience for professional players to enjoy
brass literature. The most common reaction of the musicians was, "Wow,
I haven't had a chance to do this since I was in school!"
Regular monthly readings led to a desire to share this great sound with
the public. The HDBE has appeared at the New York Brass Conference and
several area churches and universities. Members of the group have
performed with the New York Philharmonic, Metropolitan Opera Orchestra,
Orchestra of St. Luke's, Fairfield Orchestra, several Broadway shows,
recordings, and with such artists as Johnny Mathis, the Temptations, and
Tito Puente.
The HDBE performs original music composed for eight to twenty-one
brass and percussion players as well as transcriptions of other
well-known works. By commissioning new works, the HDBE hopes to add to
the brass repertoire and bring these new works and composers to the
attention of the general public.
As a 501(c)(3) not-for-profit corporation, The HDBE solicits
foundation grants and accepts individual contributions to support its
activities.
---