Pete Christlieb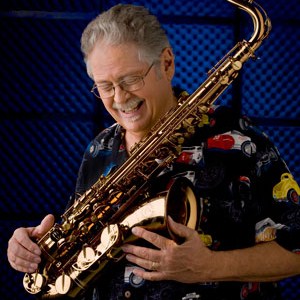 Biography
Born into a home filled with classical music, there was little question about Pete Christlieb's career path. Pete's father, Don Christlieb was a world renowned double reed player. His distinctive sound was heard on more than 750 productions over 50 years at 20th Century Fox.
Pete started working professionally just out of High School. He did gigs at the Lighthouse as a sub for his teacher Bob Cooper. His father took Pete to The Carriage house in Burbank, (Later renamed to Chadnies) to sit in with pianist Jimmy Rowles. Jimmy liked his playing and became a big influence on Pete's conception. Jimmy trained Pete in his unique approach to jazz, inviting him to come by and sit in on Sundays. Sarah Vaughn came in to perform several times. They became friends for many years. He met Carmen McCrae and was able to play and record with her too.
Just out of high school Pete went on the road with the Sy Zentner band. Then, Sy Zentner lead to Della Reese, then Woody Herman, Louie Bellson and Pearl Bailey. He went on to play an album with Sonny Criss & then on the road with Chet Baker. (Chet still owes Pete $300 and gas money back to L.A.)
It was a seven year sprint. "It was like swinging from one vine to the next. one band would end and the next would begin." Pete was ready for a change. He had been playing with Louie Bellson "He was like a father and a best friend," Pete said of his association with Bellson. In those days serial TV shows would vacation in other towns during the summer, mostly to get out of New York. Carson would take the Tonight Show to Los Angeles." Carson productions was looking for musicians to fill out the band stand in Los Angles and asked Louie for some players to come in. He recommended Christlieb for the two week gig and again the next year. When the tonight show moved to Los Angels Pete was asked to join the band on a permanent basis, that became 20 years with the tonight show.
With the tonight show taping at 6 pm Pete had time to work on other shows and other networks. First it was the Glen Campbell show on CBS. Then came the Bill Cosby Show and Sonny & Cher and many other verity shows of the day. He played on Star Trek for almost 2 decades. "Gene Rodenberry wanted a full orchestra and insisted on having no less than a 60 piece symphony play behind his episodes."
Pete was a regular at Dante's , The Baked Potato and Al Fonses playing with other jazz greats like his favorites, Frank Rosolino and Conte Condoli.
Pete started Bosco records, his great dane's namesake, and recorded his first solo Album, Self Portrait in 1981. These were followed by Going My Way & Dino's Live and several others. Pete is well known for his albums with other tenor sax greats Bob Cooper, Warne Marsh, Gene Ammons, Don Lamphere, Hadley Caliman, Ferdinand Polvel, Ernie Watts & Ricky Woodward. Pete produced records for other artists including Louie Bellson, Don't Stop Now which earned him one of three Grammy Nominations for best jazz soloist.
He recorded an album with Freddy Hubbard. and has featured solos on Records and CDs like Natalie Cole's " Unforgettable." The TV show, Family Guy featuring the Ron Jones Orchestra was recently added to his long list of credits. Pete continues to record with well-known musicians and recording artists. He recently played on CDs with artists such as Sammy Nestico, Bill Holman Band, Michael Buble, Rachel McFarlane and Seth McFarlae.
Pete plays in his own quintet with wife Linda on trombone. Together they created the Tall and Small band, a ten piece band with their first CD out called "High On You."
When asked if he didn't become a musician what would he be doing with his life, he grins and says, "I'd probably be racing cars."