Gene Bertoncini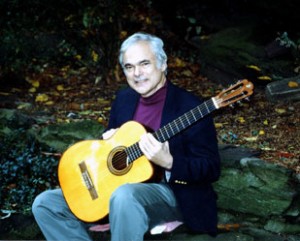 Biography
Gene Bertoncini is one of the pre-eminent jazz guitarists' active today. His fluid technique and lyricism have won him international praise and accolades as the "Segovia of jazz." An eloquent and versatile improviser, Mr. Bertoncini has been heard with an extraordinary range of jazz greats, including performances and recordings with Benny Goodman, Buddy Rich, Wayne Shorter, Hubert Laws, Paul Desmond among others, as well as such distinguished singers as Tony Bennett, Lena Horne, Nancy Wilson, Vic Damone, and Eydie Gorme.
The "Washington Post" proclaimed his solo appearance in New York City the best jazz concert of the year 1999. Mr. Bertoncini's acclaim is hardly confined to this country. His CD, "Someone to Light Up My Life" which features his own arrangements of the compositions of the great bossa nova composer Antonio Carlos Jobim, won international raves. Brazilian critic's and listener's polls also named him the best acoustic jazz guitarist. Gene Bertoncini has just released a striking new solo CD, "Quiet Now" on the heels of his highly successful "Acoustic Romance," which reached the top ten of the jazz playlists. Jazziz magazine's March 2004 issue ranked it Number 1 in their list of the top 20 acoustic guitar CDs.
A prolific and popular studio musician, Bertoncini honed his professional chops as a member of the Tonight Show band during Johnny Carson's tenure, and he has worked with composers and arrangers such as Lalo Schifrin and Michael Legrand and has performed with the Metropolitan Opera Orchestra. According to the "New Yorker" magazine, "Bertoncini is an affecting, highly original guitarist that moves easily back and forth between classical and jazz guitar."
Mr. Bertoncini's teaching credits include William Patterson University, the Eastman School of Music where he regularly performs and conducts summer workshops for jazz guitarists, the New England Conservatory, New York University, and the Banff School of Fine Arts. He has been a highly sought-after guest clinician in colleges and universities throughout the country.
---