Jason Raso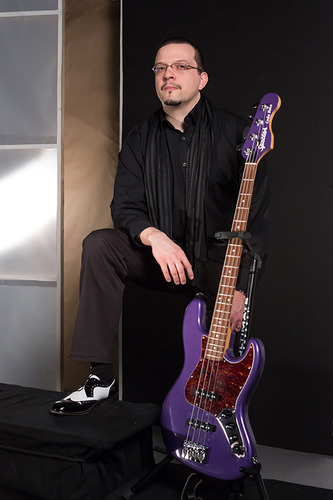 Biography
Jason Raso has a funk heart and a jazz head. They are hard wired together by the 4 strings of his bass guitar, and an innate ability to craft music that will turn you into a bobble head. It'll make you feel like you're the coolest cat on the block.
For over 20 years Raso has pursued the groove to such excellence that Exclaim Magazine declares, "Jason Raso's bass is a full-on orchestra of ground vibrating pleasure."
Through his first 5 albums and countless live performances, from intimate settings to festival stages, Jason and his band have entertained and connected with listeners. His ability as a band leader allows for some inspired improvisation that takes you on a journey then brings you back, spent, but unharmed. You could focus on his finely honed technique, but it's the energy and emotion of the tunes that often leads to finger snapping and vigorous toe tapping.
In 2011, Jason released album number 6, The Red Arrow, a debut with Summit Records. His creative energy expanded to include another layer of composition that explores his jazz sensibilities. If that weren't enough, he doubles on electric guitar, as well as the acoustic double bass, demonstrating his skill as a musician and love for jazz guitar. In an interview with !Earshot, Jason says, "I still want a groove, and hope that those two sides continue to blend."
2013 saw the release of "Slingshot" featuring his Quartet. Brent Rowan on saxophone, Adam Bowman on drums, and Thomas Hammerton on keys. "Bassist/guitarist doubler composer Jason Raso is back with a grooving, swinging, bumping outing with his sexy quartet" – Bass Frontiers
This recording artist, composer, producer and guitar teacher has a long list of accomplishments that just keep growing. They include endorsements with Spector Basses and TC Electronic Bass Amplifiers. He's a Hartke Canadian Artist Search Winner (2010), has composed and performed music for syndicated radio, is a session player with a capacity for various styles and production and has numerous television and radio performances under his belt.
Above all Jason Raso continues to grow as a musician and composer. His talent and originality are expressed by ongoing mastery of his instruments, and an appetite for musical knowledge.
---