Will Scruggs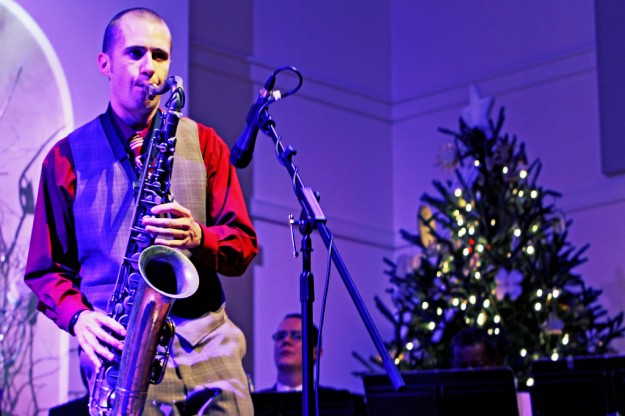 Biography
Born in Atlanta, Will Scruggs began playing sax at the age of 8 before going on to be voted Most Outstanding Member of the Enloe High School Jazz Band in Raleigh, North Carolina, and selected as the First Chair Baritone Sax in the 1998 Honor Band of America.
At Emory University, Will was named the top college jazz musician of 2001 in Alabama and Georgia by the Alabama Jazz and Blues Federation. While attending Emory he studied saxophone with Nathanael Fareed Mahluli and was mentored by Gary Motley and Rev. Dr. Dwight Andrews. After becoming the first student ever to graduate from Emory with Highest Honors in Jazz Performance, "Mr. Scruggs" joined Teach for America to teach first grade in Southeast Atlanta.
Will has recorded two full-length albums  of original music with Cadillac Jones, an original jazz/funk band out of Atlanta. Their second record, Junk in the Trunk, was released in 2003 by Harmonized Records.  During his time with Cadillac Jones, Will had the opportunity to sit in with both the Dirty Dozen and Rebirth Brass Bands, open shows for Charlie Hunter and Blood, Sweat, and Tears, and perform at the Knitting Factory in New York, NY. During this time he also made regular guest appearances with Perpetual Groove throughout the Southeast and as far as California, where he shared the stage with Skerik, Jessica Lurie, and Umphrey's McGee's Jake Cinninger at the 2003 High Sierra Music Festival.
In 2004 Will left Cadillac Jones to lead his own band, the Will Scruggs Jazz Fellowship, releasing a self-titled CD in early 2005.  After touring the East Coast and bringing messages of peace, justice, and unity to audiences from Florida to Washington, DC, the Jazz Fellowship performed at the 2006 Atlanta Jazz Festival as winners of the 2005 Future of Jazz Competition. The second Jazz Fellowship album, BlueBari Jam, was released throughout the U.S. and Canada on Summit Records on October 9th, 2007, and was as high as #51 on the Jazz Week Radio Charts.
In addition to his success as a bandleader, Will Scruggs is quickly making a name for himself as one of the top-call saxophonists in the Southeast. In 2002 he was featured as a special guest soloist with the Dave Brubeck Quartet and the Emory Symphony Orchestra. Since 2003 he has appeared on over 25 albums, including records produced by Dallas Austin, Noel Alphonso, and Oliver Wood.  As a member of the Funderhorns, Will can be heard on Leavin', the newest record from Eight-time Grammy ® Award winner Natalie Cole.  He also performed with Ms. Cole at the Variety Playhouse in Atlanta and the Apollo Theater in New York City.  Scruggs has toured extensively with singer/songwriter Chris Cauley and his newest project, CC Booker III feat. Will Scruggs, a SoulJazz  collaboration between musicians in ATL and NYC. He also performs regularly with vocalist Audrey Shakir and Atlanta supergroup, Kingsized.  Scruggs spent much of 2009 branching out, performing with 'New-Grass' legend John Cowan and recording commercially with Cee-Lo.
Will Scruggs currently lives in Atlanta, GA.  In December 2006 he completed a Master's of Music in Jazz Studies at Georgia State University.  From 2005 – 2009, he served as Music Manger and Booking Agent for Ray's Restaurants, Inc. (Ray's on the River, Ray's in the City, and Ray's Killer Creek). He tours in a 1990 Diesel Ford van that runs on 100% waste vegetable oil.
Will Scruggs is an official Jupiter Artist and plays Jupiter Saxophones.
---