Bob Curnow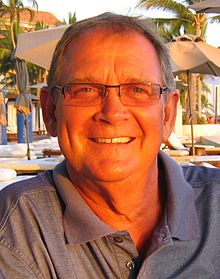 Biography
In 1990, Bob Curnow decided to create a jazz ensemble dedicated to the performance of classic big band music. The New Jazz Repertory Ensemble did its first performance at Spokane Falls Community College and has never looked back. A few years later, Bob was encouraged to change the name of the band to the Bob Curnow Big Band.  That name has seemed to draw many more people to performances, perhaps due to Bob's highly successful recording of his arrangements of the music of Pat Metheny and Lyle Mays in 1994 (with his L.A. Big Band) and the stunning CD recorded with the SWR Big Band of Stuttgart, Germany, exclusively featuring Bob's arrangements and compositions.
This band has existed now for 20 years, and it has never been better. The skill and creativity of the band members is extraordinary, resulting in performances of the highest caliber, while building a large, supportive and very loyal audience.  Most of the members of the band are not only superb performers but dedicated music educators.  It doesn't matter if its the music of Stan Kenton, Count Basie, Buddy Rich or the more contemporary sounds of Pat Metheny and Bob's own original compositions and arrangements, the band rocks and, above all, it swings.
Every year the band records all of the new jazz band music published by Sierra Music Publications, Inc., one of the largest jazz band publishers in the world.  The company is located in Liberty Lake, WA. The band has also performed at many jazz festivals in the area and regularly shares its stage at the Ichiban Sushi Lounge in Spokane with many of the outstanding school (middle school, high school and university) jazz ensembles in the region.  This comittment to jazz education and the support of jazz in the Northwest is paramount to the existence of the Bob Curnow Big Band.  The Ichiban performances happen almost every other Monday night and have for the past couple of years.
---