Julie Ann Giacobassi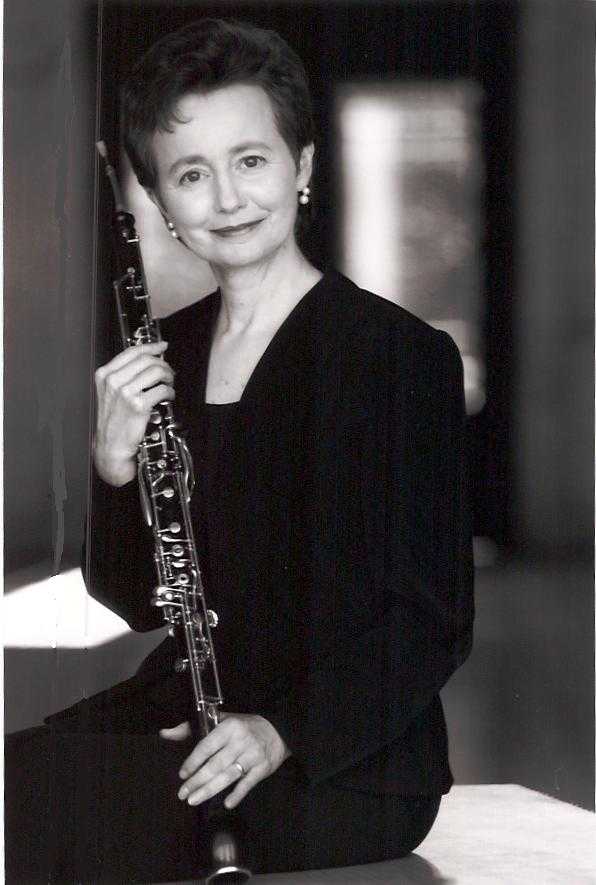 Biography
In 1994, Ms. Giacobassi along with conductor Alasdair Neale and the San Francisco Symphony presented the world premiere of Aaron Jay Kernis' Colored Field for English horn and orchestra, commissioned for her by Hugh and Eugenie Taylor. Both the San Francisco Chronicle and the Examiner rated Colored Field in the top five classical music highlights of 1994. Critic Joshua Kosman wrote, "The piece was written to show off Giacobassi's particular skills, especially her talent for shaping melodic lines with dark-hued eloquence, and it does so splendidly. Her performance was as vibrant, as serenely shapely and as precise as anyone could desire." Their recording of Colored Field (for Argo) was awarded France's "Diapason d'Or".

Ms. Giacobassi joined the San Francisco Symphony as English horn player in 1981, and in 1985 made her solo debut with the Symphony performing Telemann's Concerto for Oboe d'amore. Other solo performances with the SFS have included Copland's Quiet City, Farberman's Shapings, Honneger's Concerto da Camera, Sibelius' The Swan of Tuonela and John Thow's Bellini Sky. She has performed Peteris Vasks' Concerto for English Horn with the Grand Rapids Symphony.

Other premieres included Harold Schiffman's Chamber Concerto for English horn and his Concerto for Oboe d'amore, which she recorded with Matyas Antal and the Hungarian Symphony Orchestra for North/South Records. Ms. Giacobassi can be heard on the Philips, London, Nonesuch, BMG and the SFS Media recordings of the San Francisco Symphony.

Ms. Giacobassi began her oboe studies at the age of fourteen with Gail Warnaar in Muskegon, Michigan. She is a graduate of the University of Michigan where she studied with Florian Mueller. Before joining the San Francisco Symphony, Ms. Giacobassi performed as English horn player and oboist with the Shreveport Symphony, the National Ballet Orchestra, the Kennedy Center Opera House Orchestra, Wolf Trap, and the American Camerata for New Music. While in Washington, DC, Ms. Giacobassi studied with English horn player Richard White. She has performed regularly in the San Francisco Bay Area as part of Chamber Music Sundaes and the SFS Chamber Music Series.