Katie Johnson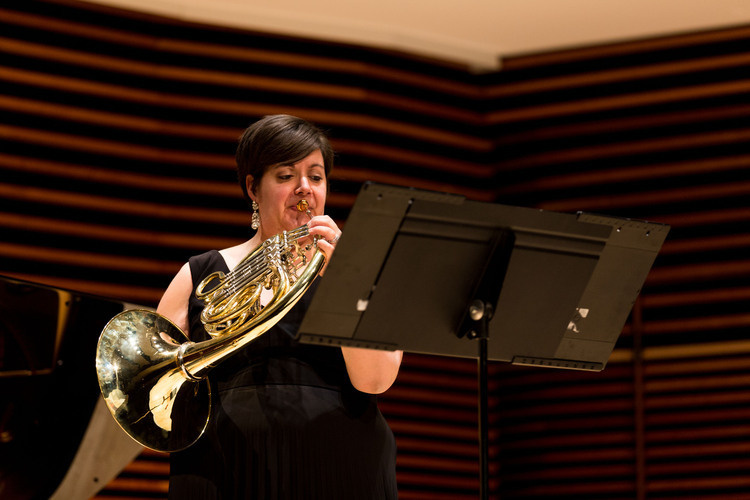 Biography
From classical to contemporary and everything in between, Dr. Katie Johnson excels as a flexible, thoughtful, and active performer of chamber music, solo repertoire, and orchestral literature. Dr. Johnson was selected to attend the Aspen Summer Music Festival in Aspen, Colorado, the Kent/Blossom Music Festival in Kent, Ohio, and the National Repertory Orchestra in Breckenridge, Colorado. As an orchestral musician, Katie has performed under the batons of such notable conductors as David Zinman, James Conlon and Carl Topilow and she continues to find orchestral performance a thrilling and deeply necessary part of her musical life.
Dr. Johnson completed the Doctor of Musical Arts degree at the University of Wisconsin-Madison under the direction of Emeritus Professor Douglas Hill and Professor Daniel Grabois. While completing the Master of Music degree at the University of Wisconsin-Madison, Katie worked closely with Professor Douglas Hill as a Bolz Fellow, eventually leading her to discover a passion for Hill's original compositions. This work culminated in her doctoral dissertation, Thoughtful Wanderings: A Study of the Collected Compositions of Douglas Hill. Interested in researching all aspects of horn performance and history, Katie's M.M. and D.M.A. lecture recitals focused on the historical performance practices of the hunting, Baroque, and hand horn and her M.M. recital focused on contemporary works for horn. Katie completed her undergraduate studies in music and political science at Valparaiso University in Valparaiso, Indiana.
Dr. Johnson believes passionate teaching is a great joy and honor as well as her most important musical outlet. Prior to her appointment at the University of Tennessee, Katie served as Instructor of Horn at Maranatha Baptist College, in Watertown, Wisconsin. There she was privileged to work with students of diverse interests and abilities. Dr. Johnson teaches with the understanding that each student has individual needs and requires a unique teaching approach. Therefore, she has developed a teaching style that adjusts to the individual needs and requirements of each student.