Katie McLin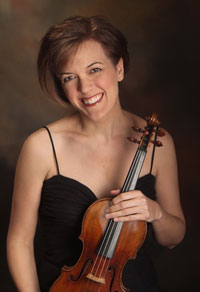 Biography
Violinist Katherine McLin enjoys an extremely varied and prolific performing career as a concerto soloist, recitalist, and chamber and orchestral musician. Since her debut with the Oregon Symphony at the age of fifteen, Dr. McLin has made over 80 appearances as soloist with orchestras across the country. Recent performances include the Tchaikovsky Violin Concerto with Symphony of the West Valley, the Beethoven Violin Concerto with the Tempe Symphony Orchestra, the Beethoven Triple Concerto with the Scottsdale Philharmonic and Joel Puckett's Short Stories with the University of Michigan Wind Ensemble.
As a member of the McLin/Campbell Duo with pianist Andrew Campbell and frequent chamber music collaborator with colleagues around the world, Dr. McLin has performed in 40 states and numerous countries abroad. She has served as a featured performer in many national and international conferences, including the International Double Reed Society (2011 and 1997), International Clarinet Association (2011), International Schoenberg Conference (2005), National MTNA (Music Teacher's National Association) Conference (2003), IPAC (International Percussive Arts Conference) (2002), and SEAMUS (Society for Electro-Acoustic Music in the US) (2003).
Dr. McLin appears on 19 compact disc recordings under the Summit, Centaur, and Opus One labels. Among her most recent projects Beau Soir, a disc of French violin/piano duo music with Andrew Campbell, was a KBAQ CD of the week 2010. Additionally, Dr. McLin's live and recorded performances have been broadcast on NPR's Performance Today, NYC's WQXR (Bob Sherman's "Listening Room" program), and local radio stations throughout the country.
A frequent guest recitalist and clinician, Dr. McLin gave the featured Pre-College Violin Master Class at the 2008 National American String Teacher's Association Conference in NM. She has presented master classes at over 50 music schools across the country and abroad, including the University of Michigan, Trinity College (London), North Carolina School for the Arts, Boston University, Blair School of Music at Vanderbilt, Carnegie Mellon University, University of Oklahoma, University of Colorado at Boulder, University of Kansas, University of Oregon, University of Georgia, University of Kentucky, West Virginia University, Texas Christian University, and University of Miami, to name a few.
Dr. McLin received her doctorate in violin performance from the University of Michigan as a student of Paul Kantor. She holds additional performance degrees from Indiana University and the Oberlin College Conservatory, and for three years was an orchestral fellowship recipient at the Aspen Music Festival. Her former teachers include Franco Gulli, Josef Gingold, and Kathleen Winkler.
A committed and passionate teacher, Dr. McLin won the 2004 Distinguished Teacher Award for the College of Fine Arts at Arizona State University, chosen from over 170 faculty, and was a finalist for the 2007 university-wide ASU Professor of the Year award.
---