Nancy Wright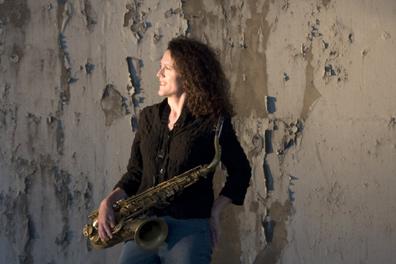 Biography
Well-established as a top Blues sax sideman for more than 25 years, Nancy Wright has recently stepped to the front of the band and into jazz territory with the release of her debut CD, "Moanin'" featuring a mix of soul jazz, blues, ballads, and boogaloo, including four original compositions.
Of Wright's blues playing, John Orr of the San Jose Mercury News writes, "One of the hottest blues sax players in the business, she is known for powerful, soulful, fascinating playing. Her sax solos are a highlight of any show she's in."
Of Wright's performance on "Moanin'", Fritz "The Nite Owl" of WJZA (Columbus, OH) writes, "Her tenor personifies that big-toned, warm, sexy-sensual, blooze-drenched sound so familiar to fans of Houston Person, Gene Ammons and Ben Webster . . . "
Though she's called the Bay Area home for 25 years, Wright's saxophone career got its start in Dayton, Ohio. She was a classically-trained bassoon player majoring in Music, when the university theater department offered her the sax player role in a production of "Cabaret." Arriving early for rehearsal one day, she found a group of musicians in the hallway jamming on the blues. They invited her to sit in. "The coin dropped that day," says Wright, "and I discovered the world of improvisation." Having trained on piano, violin, concert harp, flute and brass, as well as bassoon, Wright says it was also "a question of finally getting to the right instrument."
While in Dayton, she discovered a mentor in Lonnie Mack, one of the founding fathers of blues-rock guitar, joining him regularly on stage. She also toured with Grammy-award winner John Lee Hooker, performing at Carnegie Hall and the Mississippi Delta Blues Festival, and performed with Stevie Ray Vaughn, Albert King, and Albert Collins.
Wright first appeared on the Bay Area music scene in 1984 with the critically acclaimed New Orleans Rhythm and Blues Band, Hot Links. Following a successful North American tour, Wright and Hot Links were tapped to perform with Swamp Boogie Queen Katie Webster, appearing on her Arhoolie Records release, "You Know That's Right." Wright and Webster also performed together at the Chicago Blues Festival and appear together on B.B. King's album, "Blues Summit," winner of the 1994 Grammy Award for Best Traditional Blues Album.
After relocating to San Francisco, Wright spent the next two decades touring North America, Europe, and Asia with such artists as Elvin Bishop; Commander Cody and His Lost Planet Airmen; New Orleans legends Johnny Adams and Earl King; Joe Louis Walker; Maria Muldaur; and Greg "Fingers" Taylor (accompanied by Debbie Davie and Janiva Magnus, opening for Jimmy Buffet's Outpost Tour). "I have been blessed to play with and learn from so many wonderful musicians," says Wright. During this period, she also performed with many top blues artists including Robert Cray, Bonnie Raitt, Pinetop Perkins, Hubert Sumlin, Lowell Fulsom, Son Seals, and Ike Turner.
While the blues thread remains strong in the tapestry of Wright's music, in the late 90s a new thread appeared—the opportunity to work with local Hammond B3 organ artist Jackie Ivory (who's also worked with sax luminaries like Junior Walker and Willis Jackson). This rekindled her love of organ combo music, which led to performances with Hammond star Tony Monaco and to the release of her debut CD "Moanin'" (produced by Monaco) on the Chicken Coup/Summit Records label. Backing her on the album is Monaco's burning trio, with Robert Kraut on guitar and Louis Tsamous on drums. "Moanin'" continues to climb the JazzWeek charts, and has also appeared on Top New Release lists by such nationally known experts as Bob Parlocha (former program director/host of KJAZ of San Francisco).
"It really doesn't mean a thing, if you ain't got that swing and . . . (this album) has swing! 'Moanin' on Chicken Coup Records pays homage to the blues and straight ahead. The Ohio native gives a big bust of sound, playing in the pocket-we like that. Wright delivers on this album." –Jazznatics Lounge, 1021online.com
Like Texas Tenors Arnett Cobb and Illinois Jacquet, and Chicago "Tough Tenors" Gene Ammons and Sonny Stitt, Wright works back and forth between blues and jazz gigs comfortably, and continues to be in demand as a sideman. But she is most passionate about the tenor sax/Hammond organ combo sound, a setting that allows her to naturally draw on her blues and R&B background, adding spice to the mix with New Orleans overtones.
---