Paul Skevington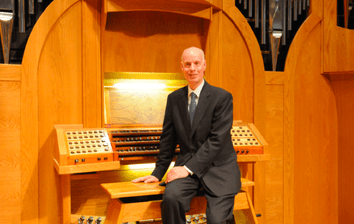 Biography
Dr. Paul Skevington is a native of Fort Wayne, Indiana. He and his wife Kathleen now reside in Ashburn, Virginia. Since 1993, He has been the Minister of Music and Liturgy at Saint Luke.
He was very much involved in the project to secure the very popular 61-rank Steiner-Reck mechanical-action pipe organ, installed in the church in 1998.
He has developed a highly acclaimed well-rounded sacred music program at the church, with the 35 voice Festival Choir at the center of the musical activities.
Under Paul's direction, Saint Luke has become renowned as a superior site for concerts, with the Saint Luke Music in McLean concert series hosting over 18 musical events per year. The church has also served as a superior site for recordings with over 50 CDs recorded in this space.
Paul holds degrees in organ performance from Indiana University and a Doctorate degree in Liturgical Music from The Catholic University of America. He is past dean of the Northern Virginia Chapter of the American Guild of Organists, and past chairperson for the National Association of Pastoral Musicians' Section for Organists.