Washington Trombone Ensemble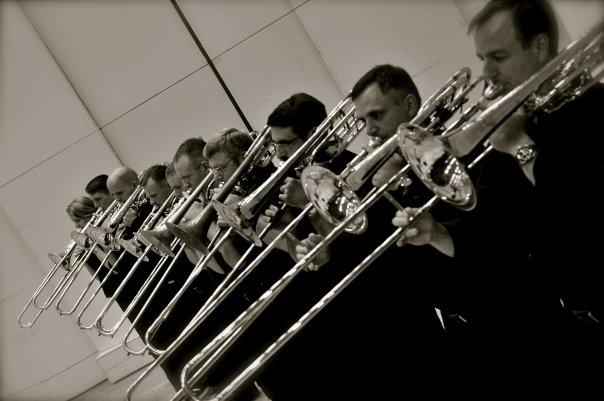 Biography
The Washington Trombone Ensemble is made up of the finest trombone players in the Washington DC area. Members come from professional orchestras, premier military bands, and university faculty. The goal of the group is to become the country's only large professional trombone ensemble. The WTE is building a repertoire of new music written for the group to take full advantage of this unique ensemble. The WTE is also focusing on educational outreach projects, working with local universities and school systems to inspire aspiring trombonists and to get young people excited about new music.
The Washington Trombone Ensemble was created after the Inter-Service Trombone Choir led by Dr. Milton Stevens, former principal trombonist of the National Symphony Orchestra. With the untimely death of Dr. Stevens, there was no outlet for the many talented trombonists to gather together and enjoy the music and camaraderie that is so common to trombone ensembles. The Inter-Service Trombone Choir was reformed for the 2008 Eastern Trombone Workshop and was called the Milt Stevens Memorial Trombone Choir and gave a moving performance in his memory.
The trombonists involved were excited to keep this ensemble alive. There are so many talented professional trombonists in the Washington DC area that it could easily be called the trombone capitol of the world. Not wanting to limit its members to just military band members, the decision was made to increase the scope and invite members of local symphonies, university faculty, and freelance artists.
---