Shauna Rolston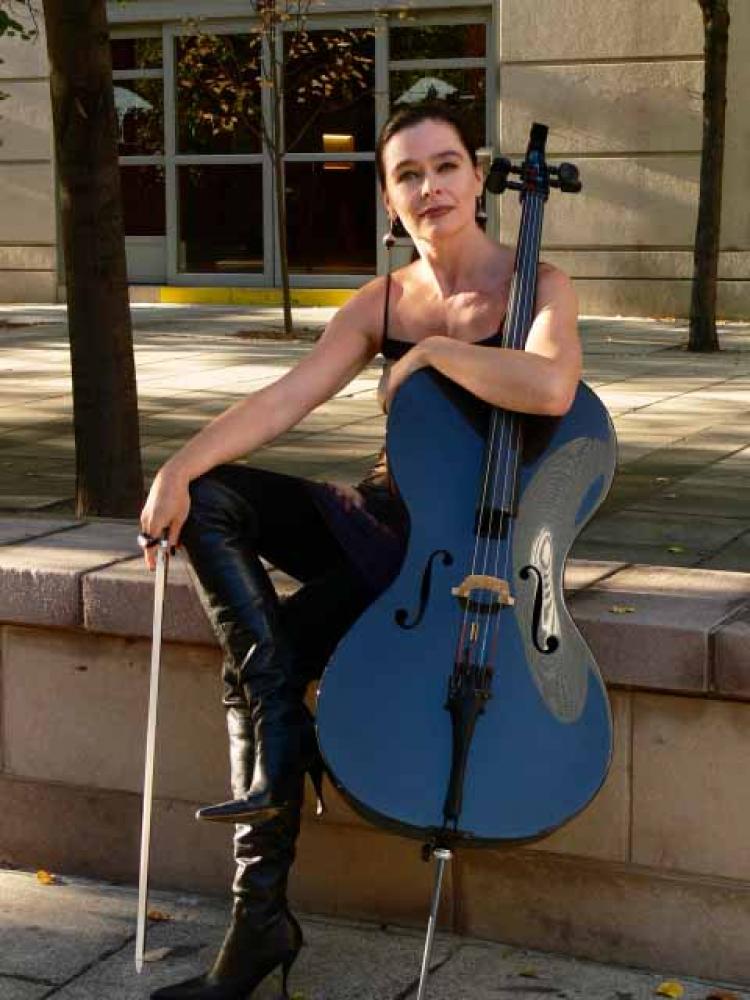 Biography
Award winning Canadian cellist Shauna Rolston is considered by peers, the press, and fans alike to be one of the most compelling and distinctive musical voices on the stage today. Praised for her blazing technique and her ability to captivate the imagination and touch the heart of each audience member, Shauna continues to delight and astonish with a busy schedule of concerts, recordings, and world premieres.
Shauna has appeared in recital and concerto engagements in London, Paris, Copenhagen, Budapest, Rome, Amsterdam, Tokyo, Seoul, Jerusalem, Tel Aviv, Sao Paulo, Prague, Ankara, Bursa, Toronto, Montreal, New York, Boston, Washington, Los Angeles, Saint Louis, Denver, and San Diego. She was the featured artist at the 1988 Olympics and has performed at many prestigious international festivals including the Casals Festival in Puerto Rico, the Kuhmo Festival in Finland, the Gubbio Festival in Italy, the San Miguel Festival in Mexico, the Tivoli Festival in Denmark, the Stavanger Festival in Norway, the Great Mountains Music Festival in Korea; the Newport, Sandpoint, Ohio, Maryland, and Britt festivals in the USA; the Banff Festival of the Arts, the Toronto Summer Festival, the Ottawa Chamber Music Festival, and the Orford Festival in Canada; as well as the new music festivals in Winnipeg, Toronto, Vancouver, and Ottawa. She has collaborated with conductors Krzysztof Penderecki, Yannick Nezet-Seguin, Mario Bernardi, William Eddins, Bramwell Tovey, Hans Graf, Sir Andrew Davis, Jukka-Pekka Saraste, Marin Alsop, Robert Spano, Pavel Kogan, Andreas Delfs, Keith Lockhart, Kenneth Jean, Uri Meyer, Peter Bay, Sam Wong, George Hansen, Andrey Boreyko, Alexander Rudin, and Yoav Talmi, among others.
Shauna was born in Edmonton, Alberta. Her parents, pianist Isobel Moore and violinist Thomas Rolston – professional musicians, prominent music educators, and faculty members at the University of Alberta – introduced Shauna to the cello. Her father had an instrument maker create a one-eighth size cello which was presented to Shauna on her second birthday. Shauna's first instruction was with cellist Claude Kenneson, a trio member with her parents, and author of Musical Prodigies: Perilous Journeys, Remarkable Lives (Amadeus Press, 1999) an insight into the lives of 44 musical prodigies, which begins with an intimate portrait of Shauna. At the age of four she began playing chamber music with her parents and while they recognized her exceptional musical ability, they limited her public appearances and avoided promoting her as a prodigy. By the age eleven she was playing on a full size cello, an 1824 Chanot that she has been playing ever since. When Shauna was twelve, the family moved to Banff where her parents founded and were appointed Co-Directors of the year-round Music and Sound Programs at the Banff Centre. Consequently, Shauna was given the opportunity to play for a uniquely broad and deep array of renowned guest artists from many disciplines including Zoltan Szekely, Gyorgy Sebok, Luciano Berio, Menahem Pressler, William Primrose, and Igor Oistrach, as well as cellists Janos Starker, Zara Nelsova, Gabriel Magyar, and Aldo Parisot. At the age of thirteen, Shauna played for famed cellist Leonard Rose who invited her to study with him at Juilliard. At the age of fourteen, Shauna was the youngest member, along with violin prodigy Joshua Bell, to attend the Geneva Conservatory in Switzerland where she studied with Pierre Fournier, and later at the Britten-Pears School in Aldeburgh where she also studied with William Pleeth. At sixteen, she made a spectacular debut at New York's Town Hall, with her mother at the piano. Following her formative studies at the Banff Centre and abroad, Ms. Rolston earned a Bachelor of Arts degree in Art History from Yale University and a Master of Music degree from the Yale School of Music where she studied with the distinguished cellist and pedagogue Aldo Parisot. While pursuing her degrees, she also served as his teaching assistant, and toured widely as a highly in-demand soloist, performing in many of the world's most renowned concert halls.
Gifted prodigy turned masterful innovator, Shauna's passion for the music of our time has led to the commission and creation for her of more than 50 new works. In one season alone she premiered five concertos written for her, while continuing to make a stunning impression with such traditional staples as the Elgar and Saint-Saens concertos. The list of distinguished composers who have written for her and whose works she has premiered include fellow Canadians Oskar Morawetz, Kelly-Marie Murphy, Heather Schmidt, Bruce Mather, John Burge, Douglas Schmidt, Christos Hatzis and Chan Ka Nin, as well as international artists, Krzysztof Penderecki, Gavin Bryers, Mark Anthony Turnage, Rolf Wallin, Augusta Read Thomas, Osvaldo Golijov, John Tavener, and Einojuhani Rautavaara. Two Canadian music icons, the late Jean Coulthard and Violet Archer – mentors since she was a toddler – introduced her to theory and analysis of music and wrote for her. More recent commissions and premieres include concerti for cello by Karen Tanaka, Gary Kulesha, Ron Royer, Chris Paul Harman, and Larysa Kuzmenko, and "Icicles of Fire", "Fantasy", and "Synchronicity" for cello and piano by Heather Schmidt. Upcoming projects include cello concertos by Kelly-Marie Murphy, Heather Schmidt, and Vincent Ho as well as a concerto for cello and jazz orchestra by Darcy James Argue under the direction of Darcy Hepner. Upcoming collaborations demonstrating Shauna's tremendous versatility include three groundbreaking double concertos: Douglas Schmidt's "Carbon Concerto" for carbon cello and accordion, and two concertos featuring Ms. Rolston with the composers as performers: Heather Schmidt's concerto for cello and piano and David Braid's concerto for improvising cello contemporary jazz piano. Shauna is also a highly skilled and extraordinarily accomplished 'whistler' and is looking forward to premiering her first 'whistling concerto' which is being written for her by Heather Schmidt.
Recent highlights include performances in Finland and Iceland as a member of the Governor-General's State Delegation, 20 recitals with the finalists of the Honens International Piano Competition, soloist in the Concerto Grosso for three cello soloists by Krzysztof Penderecki under the direction of the composer at the Casals Festival in Puerto Rico with the China Philharmonic, and premiere performances of Doug Schmidt's concerto written for Shauna entitled "Granny's Aching Back" with the Denver, Shreveport, Vancouver, Victoria, and Banff Festival Orchestras. She has also appeared as soloist with the Utah, Winnipeg, and Toronto Symphonies and in recital at the Lincoln Center in New York, in Calgary, Toronto, at the Banff Festival of the Arts, and the Orford Festival in Canada, the Ohrid Festival in Macedonia, the Canada Dance Festival, and the Belize, San Miguel, New Generation, El Paso Pro-Musica, and Elora Music Festivals.
A prolific recording artist, her discography includes two CDs that are included on a global list of 13 "Cello Recordings to Please Discriminating Audiophiles" (Benjamin Ivry). Her extensive discography includes releases of the Elgar, Saint-Saens, Bliss, and Morawetz concerti, the sonatas of Faure and Frank with Menahem Pressler, and the Strauss, Barber, and Debussy sonatas with Bernadene Blaha. Her latest CD "Dreamscape" featuring unique arrangements of popular classics for solo cello and cello ensemble transcribed and written for her by Claude Kenneson and conducted by Keri-Lynn Wilson was recently nominated for a Western Canadian Music Award in the category of Best Classical CD. Her video "A Pairing of Swans" with prima ballerina Evelyn Hart (directed by Veronica Tennant) was premiered at the 2004 International Moving Pictures Festival and was nominated for a GEMINI award. Two of Shauna's previous videos "smokin f-holes" with Squeezplay and "Words Fail" with dancer and choreographer, Peggy Baker, are featured regularly on the BRAVO channel. Upcoming CD releases include the complete Britten and Bach suites for solo cello, "Icicles of Fire", a CD with pianist/composer, Heather Schmidt of works written for Shauna, and "The Rolston Project", a full-length audio recording that will feature Shauna playing as soloist in twelve artful arrangements of Canadian indie rock bests from such great bands as The Arcade Fire and The Hidden Cameras. Recent projects include a profile interview for BIOGRAPHY and a film entitled "Synchronicity" for BRAVO which explores the artistic collaboration between Shauna and Heather Schmidt. Shauna's upcoming new video release entitled "Wildfire" is a short dramatic film showcasing her talents as both a virtuoso cellist and whistler.
Declared "One of the Leaders of the Future" by Macleans Magazine and the youngest recipient of the Pro Musicis International Award, the exceptional diversity of Shauna's artistry is reflected in the diversity of the awards she has received including: The International Press Award, the Classic CD Magazine Award, the Alberta Achievement Award, the Canada 125th Anniversary Medal for significant contributions to Canada, West Coast Music Awards: Winner of Best Classical CD – ("This is the Colour of my Dreams") which is dedicated to concerti written for her by Christos Hatzis, Kelly-Marie Murphy, Chan Ka Nin, and Heather Schmidt, and Winner of Best Short Film ("Trio"-Alberta Motion Picture Association, directed by Veronica Tennant) which features music performed by Shauna and her parents, Thomas and Isobel Rolston. Shauna was recently nominated for an Alberta Provincial Awards Celebrating Excellence (PACE) award and the inaugural 2009 Oskar Morawetz award for Excellence in Music Performance. She is also featured in the books "The Great Cellists" (Margaret Campbell) and "The Popular Guide to Women in Classical Music" (Anne Gray).
In addition to her busy concert and recording schedule, Shauna is a passionate and devoted educator. As Professor of Cello and Head of the Strings Department at The University of Toronto since 1994, her responsibilities include teaching a large studio of some of the finest young cello talents and directing graduate courses in advanced performance studies which explore diverse methodologies such as Feldenkrais, Kinesiology, Alexander Technique, Yoga, Naturopathic Medicine, Personal Training, Psychology and Psychophysiology of Musical Performance, Hypnosis for Musicians, Biofeedback, and Stress Management for Musicians. She also leads cello performance classes designed to enhance the performance opportunities for cellists and to encourage critical thinking and analysis of performance issues and repertoire. Shauna's teaching philosophy clearly reflects her personal journey: "My teaching has to do with freedom, creativity, trust, and the science of the physical self as the ultimate expressive instrument. I have no formula, simply principles to which I adhere. Exploration is at the centre of my work. I am innately curious about all of the variables of sound, nuance, texture, and movement. I'm fascinated by the art of expression through the cello, and technique as an extension of the mind and creative spirit of each student. I view performances as pauses in the life journey, pauses to share with an audience and with peers. Then to reflect, reevaluate, rediscover and reinvent, and move on until the next pause. In trying to articulate the many layers of the creative process to my students, I find that I am constantly reexamining my own strategies and inspired to ask new questions. There are no concrete answers, just the accumulation of an endless number of possibilities, defined in terms of the ever-changing palette of sound, colour, and nuance, and the subsequent techniques which evolve as a result of pure determination to communicate. I can only help my students to ask more and more questions to free themselves of the notion of limits and boundaries. I try to help them integrate the process of decision making as a natural extension of the ongoing process of creativity, to value and trust the knowledge they have at that moment, and to trust it enough to share it without compromise."
Shauna is a regular Visiting Artist for the Music and Sound Programs at the Banff Centre and a member of Piano Plus, an organization devoted to educational outreach activities in smaller communities throughout Canada.
---